Windy conditions favor Bills in Monday Night Football game against Patriots
Wind gusts will easily be over 40 mph Monday night throughout the game.
Monday Night Football features two of the top teams in the AFC, but the weather may ultimately decide who wins Monday's game.
The New England Patriots have won six straight and outscored opponents by an average of 35-11 during that stretch, while not allowing a point in the second half in each of their last three games.
The Buffalo Bills, by comparison, have been up and down.
Since beating Kansas City to improve to 4-1 on Oct. 10, the Bills have been stuck in a lose-one, win-one pattern over their past six games and are coming off a 31-6 victory against the New Orleans Saints.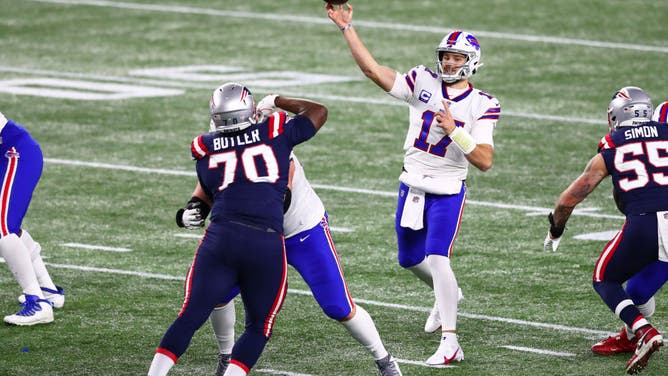 For Monday Night's game, the wind will be the big factor in Buffalo, so we should see both teams try to establish a run game early on. And whenever strong winds are a factor, expect it to have an impact on the kicking game as well, especially if it's close, which we expect in this AFC East matchup. 
Wind gusts will easily be over 40 mph Monday night throughout the game.
The wind will be more out of the west, which is why locations south of Buffalo are more likely to pick up snow rather than downtown Buffalo. Although Highmark Stadium is in Orchard Park, New York, some 10 miles south of downtown, forecasters expect most of the snow to stay south of there too, but a snow shower or flurry is not ruled out during the game.
So far this winter, Buffalo has only received 5 inches of snow. A typical winter would have 11.7 inches by Dec. 6, so the season is running 6.7 inches below average to date. 
SportsWeather.com season record: 30-13-1
SportsWeather has its own metrics system that compiles historical game-time weather data and meshes it against both NFL teams and player historical performance that allows us to make picks on games. All data is from the last 14 seasons. 
GAME: New England Patriots (8-4) at Buffalo Bills (7-4) - 8:15 p.m. Eastern
Once again, the wind will likely have a huge impact on this game. Whichever team can establish a running game, may have the best chance at winning. At game time, it's forecast to be 27 degrees. When that happens, the Patriots are 21-9 and the Bills are 17-17.  Winds will be blowing at 18 mph and in those conditions, the Patriots have a record of 42-14, while the Bills are 40-42. 
Luckily for both teams, snow won't be a factor as there is a 0% chance of precipitation (Records - Patriots: 138-51; Bills: 81-86). 
PICK: SportsWeather.com gives the edge to the Bills and predicts them to beat the Patriots. 
Make sure to check out SportsWeather.com just prior to the game for any late-breaking conditions that could impact the outcome as weather (wind forecasted weather) oftentimes rapidly change.