Weather magical for Disney World's reopening of Typhoon Lagoon Water Park
After a 2-year hiatus, Walt Disney World Resort's Typhoon Lagoon Water Park will welcome guests back on Jan. 2, 2022

LAKE BUENA VISTA, Fla.  – When you think of reopening a water park, January is the perfect month – in Florida.
After a two-year hiatus, Walt Disney World Resort's Typhoon Lagoon Water Park will welcome guests back on Jan. 2, 2022. The park closed in March 2020 due to the COVID-19 pandemic.
According to the FOX Weather app FutureView, the weather looks perfect, too, with a high around 85 degrees.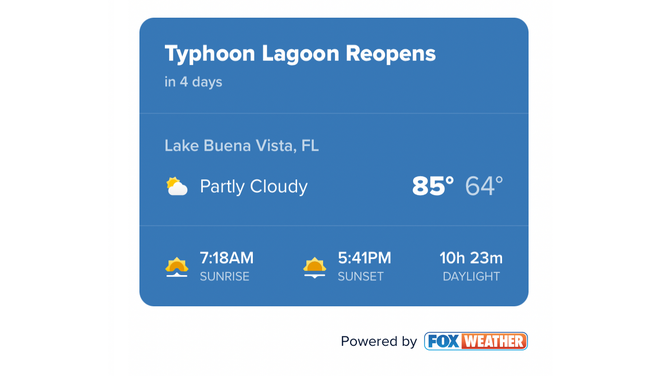 Walt Disney World kicked off its 50th-anniversary celebration on Oct. 1. The water park's reopening comes in part of the 18 months of festivities planned. And thanks to Florida's typically comfortable winter weather, the tropical island-inspired theme park is a year-round vacation destination for families.
Walt Disney World said the park's reopening will mark the return of favorite attractions, like the Typhoon Lagoon Surf Pool, and the debut of new menu items and other commemorative culinary features.
The surf pool uses state-of-the-art technology to create the perfectly controlled wave each time, including right, left or center peaks.
Also returning next year are two fan-favorite festivals at Disney California Adventure park. 
The Lunar New Year celebration will take place from Jan. 21 through Feb. 13, and Disney California Adventure Food & Wine Festival will run from March 4 through April 26.
So, surf's up to the new year as there's no shortage of Disney magic in 2022.