Weather favors Ravens in Thursday Night Football game against Dolphins
Kickoff from Hard Rock Stadium in Miami is set for 8:20 p.m. ET on FOX, and rain may be a possibility.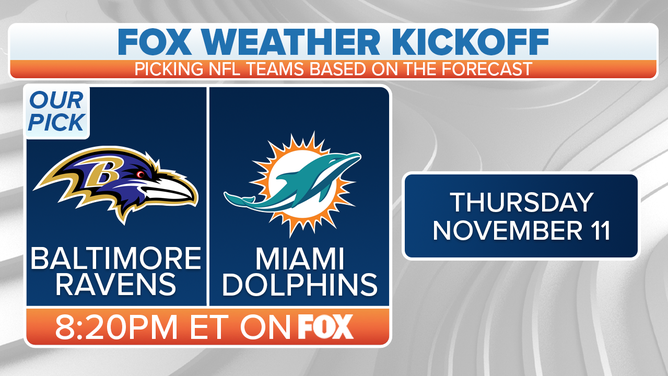 Thursday night's matchup between the Baltimore Ravens and Miami Dolphins means we have officially passed the halfway point in the NFL season. 
Baltimore is rolling with quarterback Lamar Jackson while the Dolphins face a short week. Miami's quarterback Tua Tagovailoa is a game-time decision after he couldn't play in Week 9 vs Houston. 
Kickoff from Hard Rock Stadium in Miami is set for 8:20 p.m. ET on FOX, and rain may be a possibility.  
SportsWeather.com season record: 20-8
Using SportsWeather's historical data, we pick FOX NFL games based on how teams have performed in certain weather conditions in the past. 
RELATED: Forecast for Thursday Night Football on FOX: Crab cakes worthy of touchdown dance
SportsWeather has its own metrics system that compiles historical game-time weather data and meshes it against NFL teams and player historical performance. All data is from the last 14 seasons.
GAME: Baltimore Ravens (6-2) at Miami Dolphins (2-7) - 8:20 p.m. Eastern on FOX
Outside the possibility of some rain, weather conditions in Miami will be quite ideal. It's forecast to be 77 degrees at the start of the game. Historically, when playing in that temperature, Baltimore seems to play well with a 64-44 record, while the Dolphins aren't too bad themselves, coming in at 33-27. 
MORE: FOX Weather Kickoff: Week 9 FOX NFL picks based on weather forecasts
Winds are expected to be blowing at 5 mph, creating a nice breeze. When winds are blowing at 5 mph, the Ravens are tough to beat, sitting at 95-53. The Dolphins struggle, as they are 42-52 in those conditions.  
There is a chance for some rain, 20% to be exact. When that happens, the Ravens come in at an impressive 117-73, while the Dolphins are under .500 at 85-92. 
PICK: SportsWeather.com gives the weather edge to Baltimore and predicts them to win over the Dolphins. 
Make sure to check out SportsWeather.com just prior to the game for any late-breaking conditions that could impact the outcome as weather (wind forecasted weather) oftentimes rapidly change.