Turkey prices rise as holiday season approaches
Each year the U.S. produces more than 200 million turkeys, and it is the world's largest producer and exporter. Thanksgiving dinners could cost a little extra, experts say.
The multi-billion turkey industry is staring down headwinds that experts say could lead to higher consumer prices this holiday season.
Each year the U.S. produces more than 200 million turkeys, but in recent months, farmers have had to contend with inflation, weather and outbreaks of avian flu that could increase costs this Thanksgiving season.
Purdue University is home to one of the country's leading research and education centers, and Dr. Jayson Lusk, professor and head of the agricultural economics department, believes consumers will see some impacts.
"There's appears to be still some hangover from the avian influenza outbreaks that we had the spring, so total turkey production is down, and as a result, wholesale prices are up," Lusk said.
Lusk said it is always challenging to determine how much costs retailers will pass on to consumers, but he expects wholesale prices to be around 30 percent higher than last year.
"Retailers occasionally use turkeys as a loss-leader. They'll try to get people in the store by advertising very affordable turkey prices so that when people come in the door, they spend more money on other stuff," Lusk said.
U.S. Department of Agriculture data puts the states of Minnesota, North Carolina, Arkansas, Indiana and Missouri in the top tier of turkey production.
Each of the regions has not been immune to problems from the avian flu or weather impacts for seed and other dietary needs of the birds.
DISCOVER FALL FOLIAGE MAPS AND WHERE TO SEE THE FALL FOLIAGE
Problems U.S. producers face
A highly contagious and deadly avian flu began hitting production facilities in the spring and continues with millions of turkeys having to be destroyed, according to government reports.
The USDA believes more than 5.4 million turkeys have been depopulated due to symptoms or potential exposure to the disease, which can lead to respiratory issues, a drop in egg production, dullness and other severe side effects.
Experts suggest a possible source of the rapid spread of the disease could have been wild birds' interaction with the farm animals during their regular migration patterns.
Another challenge producers have to overcome is the weather. 
Corn and other turkey feed are highly dependent on weather extremes, and drought conditions can lead to a lack of production.
U.S. Drought Monitor
 
---
Additionally, extreme temperatures can influence turkey behavior and impact the size of the bird.
"When it gets colder, turkeys adjust their behavior, so they eat more to maintain their body temperature, and of course, when it is hotter, they eat less and drink more water," said Marisa Erasmus, an associate professor of animal sciences at Purdue University.
The university's poultry program is nationally recognized and is the home to last year's presidential turkeys, which were pardoned and appropriately named Peanut Butter and Jelly.
"They settled in really well and have been enjoying their indoor-outdoor enclosure and interacting with Purdue farm staff and students. Just as they did at the White House Ceremony last year, they still strut their stuff and fluff their feathers when they see visitors," Erasmus said.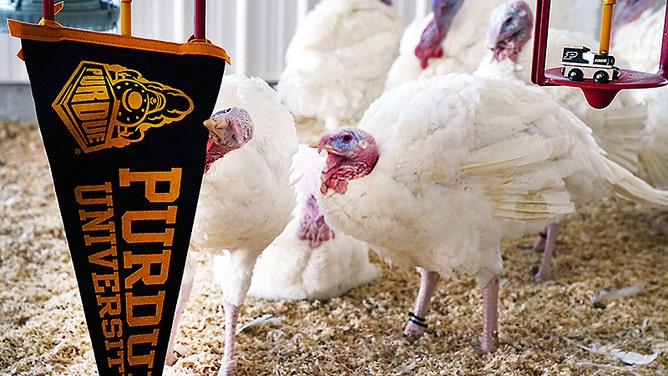 DISCOVER FALL FOLIAGE MAPS AND WHERE TO SEE THE FALL FOLIAGE
No shortage of turkeys for Thanksgiving
Despite the avian flu, weather and other constraints on farmers, the country is far from experiencing a shortage of big birds.
Each year the U.S. produces more than 5 billion pounds annually, and despite a decrease in production, consumption has also accompanied the decline.
"Output has been on the decline for the last four or five years. I think some of it is that not as much turkey is getting consumed as lunch meat. People aren't packing lunches and going out as much during the pandemic. And I'm not really sure that we have a good understanding for what's driving all of it," Lusk said.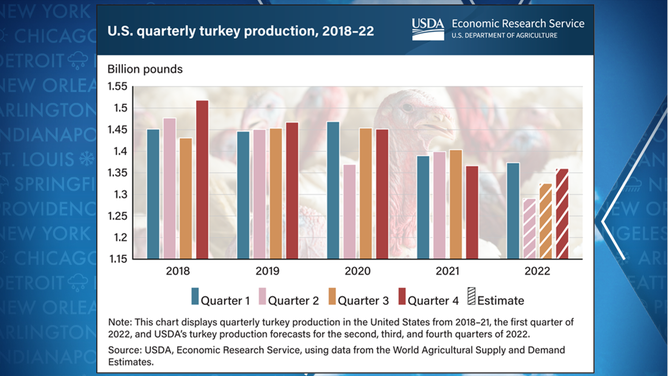 Texas A&M reports cold storage of whole turkeys is about three percent lower than last year.
Lusk's advice for consumers before flocking to stores is to buckle up and be prepared for higher prices.