This National Jukebox Day playlist will help you embrace weather
FOX Weather has compiled the Top 7 songs we feel will help you embrace the weather – rain or shine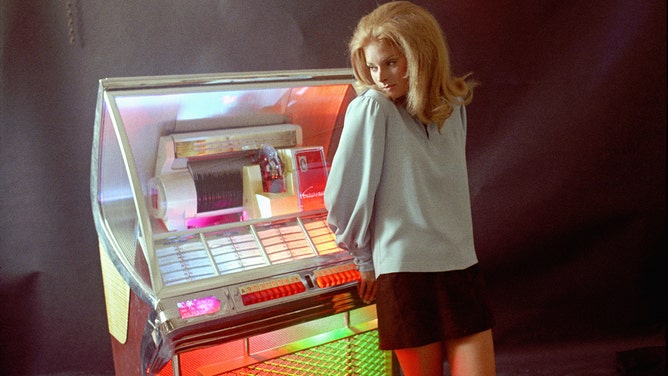 Thanksgiving stress can sometimes weigh more heavily on some than that second plate of turkey and stuffing.
So before preparing those succulent side dishes or waiting to pick up the in-laws at the airport, take some time to update that holiday playlist to create some ambiance around the table.
Besides, Nov. 24 is also National Jukebox Day -- a day to celebrate a historic machine that revolutionized music and has spun modern melodies, era after era.
While today's compact and portable music-playing devices are no longer coin-operated, the nostalgia of a music box is unparalleled with its illuminated buttons and large index of once 45s.
In commemoration, FOX Weather has compiled the Top 7 songs we feel will help you embrace the weather – rain or shine. And contrary to what Fleetwood Mac says, thunder does not always happen when it's raining.
The Weather Girls - It's Raining Men
The Grammy nominated duo The Weather Girls record their historic disco hit "It's Raining Men" in 1982. 
It was a number-one dance hit in the United States and reached the top 10 in various other countries worldwide. No need for an umbrella here. It's not literally raining men. The song's lyrics are describing an enthusiasm of many different types of men.
Zac Brown Band - Colder Weather
Country music group Zac Brown Band released "Colder Weather" in 2010 in their album "You Get What You Give."
Weather plays a key role in song. The lyric describes the challenges a trucker on the road faces while separated from his lover. 
"There was a girl I was seeing, who lived in Kansas City. We really liked each other, but geography and timing just wasn't working for us. She was getting pretty frustrated with the whole thing and wanted me to slow down, as far as traveling so much and all those things. I wasn't willing to do that because we were just getting started, and I'm chasing my dreams," the band's co-writer Wyatt Durrette told The Boot.
 
Lady Gaga, Ariana Grande - Rain On Me
Described by Lady Gaga as a "celebration of tears," the 2020 dance-pop song "Rain on Me" delivers a message about submitting yourself to devastation. It became Gaga's fifth and Ariana Grande's fourth U.S. number-one single on the chart.
"I sat with her and we talked about our lives. It's two women having a conversation about how to keep going and how to be grateful for what you do," Gaga told Paper Magazine.
AC/DC - Thunderstruck
Thunderstruck, thunderstruck
Yeah, yeah, yeah, thunderstruck, thunderstruck
You've heard the song. We've all heard the song. "Thunderstruck" appeared in the 1990 album "The Razors Edge" by AC/DC, an Australian rock band. The song has sold over a million digital copies and has since hit over one billion views on YouTube.
Natasha Bedingfield - Pocketful of Sunshine
In a song that centers on escaping from one's troubles, "Pocketful of Sunshine" was released by Natasha Bedingfield on Jan. 15, 2008. At the time, it was her second top five single in North America and her highest-charting single in Canada.
Rihanna, JAY-Z - Umbrella
Originally written with Britney Spears in mind, "Umbrella" by Rihanna features rapper JAY-Z who also helped write the song. The pop hit was released 2007 and details a passionate and spiritual relationship and the strength it holds.
Phil Collins - I Wish It Would Rain Down
Phil Collins' power ballad "I Wish It Would Rain Down" was released in his 1989 album, "...But Seriously," and features Eric Clapton on lead guitar. After the song's release, Collins said it was the closest thing to writing a blues song for him. 
The song peaked at No. 3 on the Billboard Hot 100 in the United States; it was the highest-selling song of 1990 in Canada.
Eddie Rabbitt - I Love a Rainy Night
A song 12 years in the making, "I Love a Rainy Night" was released by Eddie Rabbitt in 1980. It illustrates a man's fondness for thunderstorms and the joy they bring.
"It brought back the memory of sitting in a small apartment, staring out the window at one o'clock in the morning, watching the rain come down," music historian Fred Bronson wrote in The Billboard Book of Number One Hits. "He sang into his tape recorder, 'I love a rainy night, I love a rainy night.'"
We can all agree that a good throwback is appreciated from time to time. And whether it's rock, jazz or country, music's role in our life is just as important as the jukebox that laid the foundation for modern-day listening devices.