Santa's reindeer don't like glitter. Here are some eco-friendly food alternatives
A recipe for disaster in some reindeer food – or dust -- usually includes uncooked oats and glitter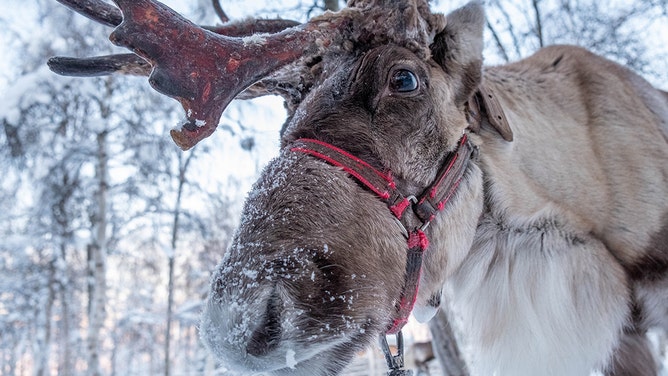 GUILFORD, Ind. – There's Dasher, Dancer, Prancer, Vixen, Comet, Cupid, Donner, Blitzen and, who could forget, Rudolph. Each of them is full of personality, a love for all things sweet and anything but glitter.
As the magic of Christmas culminates on an evening filled with joy, laughter and memories, children across the world will go to bed excited about the anticipation of Santa's arrival with his mystic herd. But before you start throwing out the glitter in the front yard so that the reindeer can spot your house, consider an alternative approach as glitter is harmful to the environment. 
A recipe for disaster in some reindeer food – or dust -- usually includes uncooked oats and glitter.
Spoiler alert: Kids, stop reading here.
While the oats could be biodegraded or eaten by other animals, the glitter is simply microplastics – or plastic particles less than 5 mm in size.
According to the EPA, plastic particles are generally the most abundant type of debris encountered in the marine environment. The latest estimates suggest that 60% to 80% of marine debris is plastic, and more than 90% of all floating debris particles are plastic.
But it turns out; reindeer don't even like glitter.
"A lot of folks think that reindeer eat carrots and candy canes because that's what they hear about and see in the movies," said Cheryl Reis, the owner of Reindeer Ridge farm in Guilford, Indiana. "Reindeer only have bottom teeth, so they would choke on carrots or candy canes."
An excellent treat for reindeer that Reis feeds their reindeer is graham crackers.
"I'm sure they would love cookies. They love anything sweet," Reis said. "They do like the oats, so they that's a good treat, too."
Her reindeer also eat shredded beet pulp that they soak, so it's nice and soft. Alfalfa hay is another part of their diet.
And adding glitter would not be suitable for reindeer's digestion, Reis warns.
Since 2015, Reis has been creating her yuletide paradise home to two female and two male reindeer. Reindeer Ridge is a member of the Reindeer Owners and Breeders Association and is a fully licensed USDA facility.
And maybe one reason why reindeer are so magical is that they are hard to find, especially in the lower 48.
"And they're expensive. They range anywhere from $10,000 to $20,000 apiece. So, they're difficult to find," said Reis, "But they are magnificent creatures that have become our pets and live with us year-round."
As we keep that magic alive this year and the many more to come, consider an eco-friendly alternative that Santa and his reindeer would approve, so they can have enough energy to get to every home on the globe. 
Cookies and milk for Santa, oats and nuts for the reindeer.