San Francisco still top 10 worst air quality in world Thursday due to California, Oregon wildfires
Smoke from wildfires in Northern California and Oregon is being funneled into California and creating unhealthy air for San Francisco.
SAN FRANCISCO – San Francisco Bay Area residents were coughing, itching and reaching for those N-95 masks again Wednesday. Smoke from wildfires in Northern California and Oregon has been choking the region. 
San Francisco was a city with the top ten worst air quality in the world on Wednesday afternoon, according to IQAir.com.
Only a handful of cities, including Delhi, India, and Lahore, Pakistan, were breathing in more unhealthy air Wednesday. IQAir ranked Lahore the most air-polluted city in the world for 2022. Delhi came in fourth for 2022. San Francisco ranked a distant 4,685th on the worst pollution list for 2022.
THE AIR QUALITY INDEX EXPLAINED: WHAT AIR QUALITY IS BAD?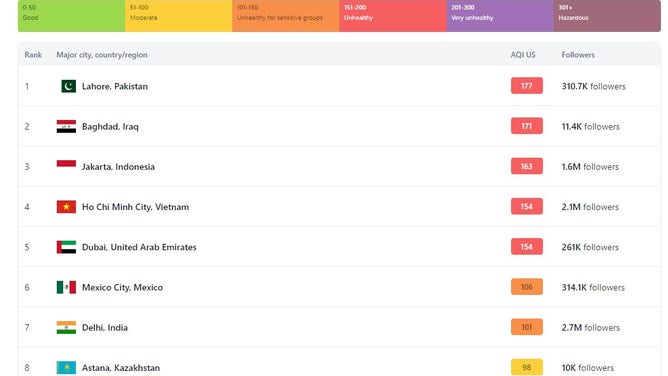 Worst air quality in America
High pressure off the coast and low pressure over the Desert Southwest have helped to funnel smoke into California. Across the bay, cities like Oakland, California, were in the "unhealthy" air quality category. 
"If the smell of smoke is present or visible, it is important that Bay Area residents protect their health by avoiding exposure," announced the Bay Area Air Quality Management District, which issued Spare the Air Days through Thursday. "If possible, stay inside with windows and doors closed until smoke levels subside."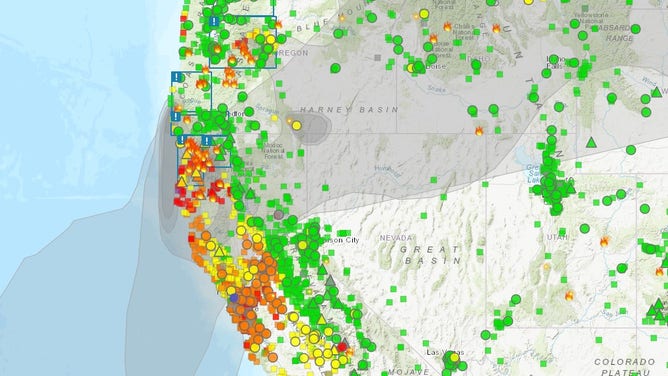 At 151 in the Air Quality Index, AirNow.Gov recommends that everyone limit prolonged exertion outside. Anyone with respiratory disease or heart disease, the elderly and children should avoid prolonged exertion.
WILDFIRE SMOKE IMPACTS: DOCTORS WEIGH IN ON UNHEALTHY AND HAZARDOUS AIR QUALITY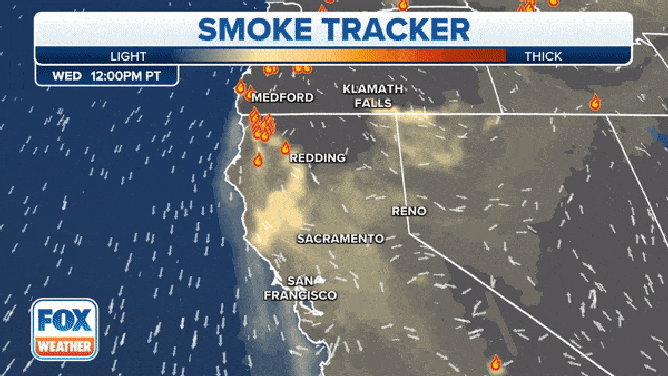 Dangers of air pollution
"Health Effects Statements: Increased aggravation of heart or lung disease and premature mortality in persons with cardiopulmonary disease and the elderly; increased respiratory effects in general population." states AirNow.
An online calculator estimates that two days of breathing in Oakland's 151 AQI is equivalent to smoking more than six cigarettes. Sunnyvale has an AQI of 160, equivalent to smoking almost eight cigarettes after 48 hours of exposure.
WHY WILDFIRE SMOKE IS TURNING THE MOON RED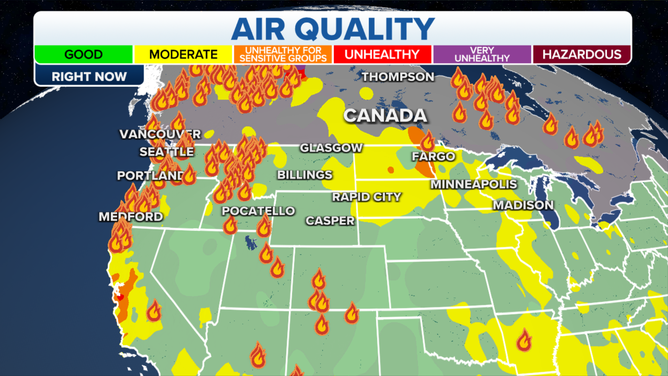 Tulare County, California, had the worst air pollution in the country as of Wednesday midday. The AQI of 187 over two days is equivalent to smoking more than half a pack of cigarettes.
The World Health Organization estimates that over seven million people die every year around the world due to exposure to polluted air. Air pollution ranks fourth among the top risk factors for death around the world, according to the Institute for Health Metrics and Evaluation.
Top risk factors for death worldwide and number of deaths attributed in 2017 study:
High blood pressure killed 10.44 million
Smoking killed 7.1 million
High blood sugar killed 6.53 million
Air pollution killed 4.9 million
Obesity killed 4.72 million
High-sodium diet killed 3.2 million
Low whole-grain diet killed 3.07 million
Alcohol use killed 2.8 million
Low fruit diet killed 2.42 million
WHICH CITIES HAVE THE WORST AIR POLLUTION IN AMERICA?
The institute also reported that 48% of deaths due to air pollution occurred in South Asia. Up to 40% of chronic obstructive pulmonary disease (COPD) is attributable to air pollution.
Status of wildfires for 2023
The U.S. is well behind average for wildfires this year. Over the past decade, the nation averaged 6 million acres burned annually. Year to date, only have 2.1 million acres burned.
WHY DOES WILDFIRE SMOKE CAUSE MORE FLIGHT DELAYS THAN FOG OR RAIN?