Pioneering National Parks Service ranger retires at 100
Betty Reid Soskin shared her perspective of growing up on the World War II Home Front
RICHMOND, Ca. – The National Park Service is celebrating its oldest active ranger this month after her retirement at 100 years old following more than a decade of service sharing the history of Americans on the Home front during World War II.
Betty Reid Soskin, who turned 100 in September, officially retired from the NPS on March 31, according to a news release. 
She spent her last day as a ranger at the Rosie the Riveter/WW II Home Front National Historical Park in Richmond, California. 
'YELLOWSTONE IS AN AMAZING PLACE': AMERICA'S OLDEST NATIONAL PARK CELEBRATES 150 YEARS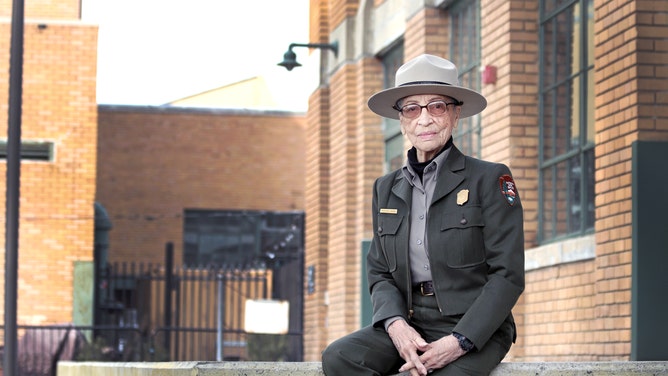 At 84, Soskin joined the NPS in a temporary position through a grant funded by PG&E to tell stories of Black Americans on the Home Front during World War II. She later became a permanent ranger, leading programs at the park and sharing her memories of growing up in a Cajun-Creole and African American family in Oakland, California, and those of other people of color during WW II.
"To be a part of helping to mark the place where that dramatic trajectory of my own life, combined with others of my generation, will influence the future by the footprints we've left behind has been incredible," Soskin said in a statement.
President Barack Obama recently added his voice to the chorus of congratulations on Soskin of her retirement.
"Betty, I hope you realize just how many people appreciate everything you've done—myself included," Obama tweeted.
Soskin participated in the national tree-lighting ceremony in 2015 where she introduced Obama during the nationally televised event.
In honor of her 100th birthday, the NPS added a unique stamp for the Passport To Your National Parks pass. The seal is available at the Rosie the Riveter Visitor Education Center in Richmond.
Naomi Torres, acting superintendent of Rosie the Riveter/WWII Home Front National Historical Park, said Soskin's perspective from her life on the Home Front has allowed the history to span across generations.
"She has used stories of her life on the Home Front, drawing meaning from those experiences in ways that make that history truly impactful for those of us living today," Torres said in a news release.
The Historical Park will celebrate Soskin's retirement at the Craneway Pavilion on Saturday. According to the park, the event is open to the public, and all ages are welcome.