Permit now needed to climb Zion's Angels Landing. Here's what hikers need to know
A permit is now required to hike Angels Landing in southwest Utah -- the strenuous 5.4-mile-round-trip hike reaches a top elevation of 5,790 feet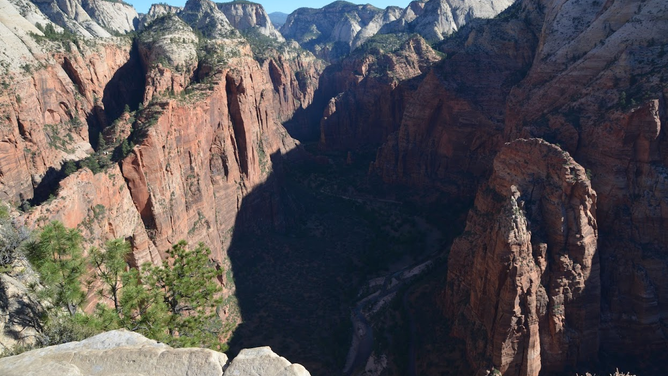 SPRINGDALE, Utah – If hiking one of the most popular destinations in Zion National Park is on your bucket list next year, you will need to prepare in advance before arriving.
A permit is now required to hike Angels Landing in southwest Utah. The strenuous 5.4-mile-round-trip hike reaches a top elevation of 5,790 feet.
"Angels Landing is one of the most iconic destinations in Zion National Park and issuing permits will make going there fair for everyone." Zion National Park Superintendent Jeff Bradybaugh said.
You can apply for your permit starting on Jan. 3, 2022.
"The system we've put in place will reduce crowding on the trail, address safety concerns and make it easy for visitors to plan ahead," Bradybaugh said.
The National Park Service said the issuing of hike permits was in response to concerns about crowding and congestion on the trail. Hikers must have a permit when accessing any portion of the Angels Landing trail starting on April 1, 2022.
Zion National Park recorded about 2.8 million visits in 2011 and nearly 4.5 million visits in 2019.
As the number of people who visit Zion continues to rise, NPS is preparing a plan designed to provide high-quality visitor experiences and sustainably manage park resources.
The permits will be required at all times of the year and times of the day. However, visitors will be able to hike the West Rim Trail from the trailhead at the Grotto to Scout Lookout without a permit.

Visitors can get a permit by entering seasonal lotteries or a different lottery the day before their planned hikes. It will cost $6 to enter any of the lotteries and successful permit holders will pay a $3-per-person fee which will help cover the costs to manage the lotteries and for additional NPS rangers.
Hiking up roughly 1,500 vertical feet of Angels Landing without a permit could cost you up to $5,000 and six months in jail.
According to the Utah tourism office, the best time to go is in early March and mid-November due to fewer hikers than peak season and the persistent solar radiation will have backed off. 
Sunrise and sunset hikes are great for photographers who want to capture the 360-degree panorama of the park.
You might want to avoid weekends from late spring through summer because the trail often gets very crowded. 
Thirteen hikers have fallen and died from Angels Landing, or the trail to it, since 2000, according to records compiled by FOX 13 in Salt Lake City.
"If it's not the most dangerous trail in America, it's one of the top five," Travis Heggie, an associate professor at Bowling Green State University who studies deaths in the national park system, told FOX 13.
Click here to learn when and how to enter the lotteries.