Party over for helium balloons in California city after ban approval
The Encinitas City Council unanimously voted Wednesday night to ban the sale, use and release of all lighter than air balloons in the city.
ENCINITAS, Calif. – If you celebrate a birthday in one California city, you won't find balloons floating at the party.
The Encinitas City Council unanimously voted Wednesday night to ban the sale, use and release of all lighter-than-air balloons in the city.
The ban would not apply to scientific balloons released by the state or federal governments or hot air balloons.
It would apply to wholesalers, retailers and vendors and go into effect on March 11.
According to the city officials, there are only a handful of cities and states across the country that have adopted similar bans.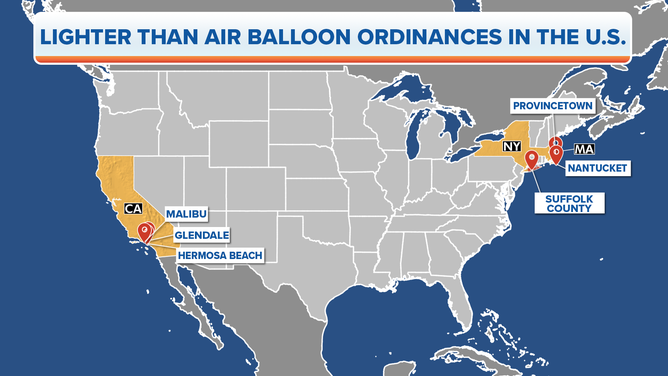 FOX 5 in San Diego reported that people for and against the issue expressed their concerns during a discussion of the proposal.
"My friends here are not single-use plastics," said Treb Heining, who has been working in the balloon industry for more than 50 years. "They are offended by being eliminated from the city of Encinitas in a balloon ban. Latex balloons are 100% biodegradable. If you say they aren't, you're very ignorant."
The city stressed that balloons could decompose into microplastics found in oceans, drinking water, food and even the air.
THE DAY THAT AIMS TO SAVE THE WORLD
City leaders said balloons filled with any gas lighter than air, like helium, pose safety threats to animals, humans and the environment. And although balloons appear to float off into space, they always come back down, causing issues.
Balloon litter has been found at Encinitas parks, beaches, oceans and neighborhoods. Latex and Mylar balloons are the most common form of floating garbage within 200 miles of the city's shorelines.
In a presentation Wednesday, commissioners said volunteers recovered 1,375 balloons from local beaches in 2019. Data shows that the number of balloons and balloon pieces found on beaches has tripled in the past 10 years.
TRASH INTO TREASURE: GROUP USES ART TO RAISE AWARENESS OF OCEAN POLLUTION
Another issue, according to the City Council, is that Mylar balloons cause power outages and fires. In the last five years, helium-filled Mylar balloons have caused more than 500 power outages across San Diego.
City leaders said that helium is also a finite resource and is predicted to run out in 25 years.
ARE THOSE JEANS SUSTAINABLE? HOW TO MAKE CLOTHING CHOICES WITH LESS IMPACT ON EARTH
Major retailer Party City said they are committed to "creating joy in a sustainable way," FOX 5 reported.
"We share the priority of the environmental responsibility and recognize the good intentions behind this resolution, but it will negatively impact retailers," said Party City district team leader Terri Bennon said.
There are alternatives for lighter than air-filled balloons. "Air-only" balloons, used in arches, bouquets, and hanging arrangements, have become popular with artists and designers.