Yellowstone National Park warns of dangers after first grizzly bear sighting of 2023
As of 2019, the U.S. National Park Service estimated there were 728 grizzly bears in the greater Yellowstone area. The country's oldest national park attracts more than 3 million tourists annually, with only eight reported fatal bear attacks since 1872.
MAMMOTH HOT SPRINGS, Wyo. – It is that time of year when snow starts to melt, plants start to emerge from their dormancy and animals awaken from a season's long hibernation, but with the recent sighting of the first grizzly bear in Yellowstone comes a warning that species may be more aggressive than unusual.
Yellowstone National Park staff announced Tuesday that an observation flight spotted a 300-350 pound adult bear in the central-eastern part of the park.
Rangers say it is normal during this time of year to spot adult males scourging for food, but it can make the giant mammals more aggressive when encountering humans.
"Spring visitors skiing, snowshoeing, or hiking in Yellowstone National Park are reminded to carry bear spray and be especially alert for bears near carcasses and areas with early spring green-up. These are the first foods sought out by grizzlies after emerging from hibernations," Kerry Gunther, a Yellowstone bear management biologist, said in a statement.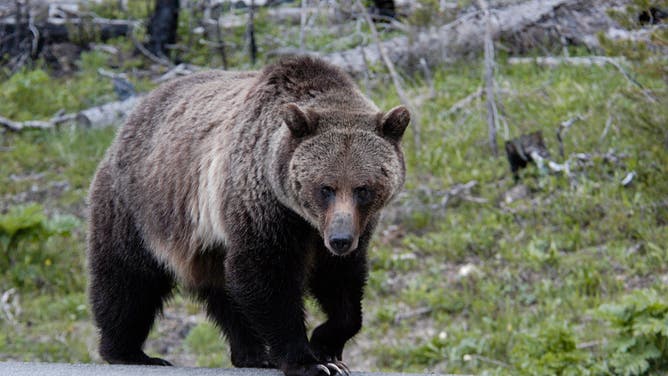 AGENCIES EVALUATE OPTIONS TO RESTORE GRIZZLY BEARS TO NORTH CASCADES AFTER POPULATION VANISHES
For several years, the first male has been spotted in the first two weeks of March. The park said sights of females with cubs don't usually start happening until April or early May.
Park staff reports it has been somewhat snowier and colder than unusual in Wyoming this winter, but the season appears not to have had a significant impact on the timing of reemergence from hibernation. 
Bears are thought to lose 15-30 percent of their body weight during hibernation, which can be made up by feeding on elk and bison that died over the winter. 
BEAR TAKES ABOUT 400 SELFIES AFTER DISCOVERING WILDLIFE CAMERA IN COLORADO
Rangers say Yellowstone is home to two species of bears - grizzlies and black bears.
So far, there have been no sightings of black bears in the 2.2 million acre park, but the park service warns that just because one has not been spotted, it doesn't mean the species hasn't started to emerge from hibernation.
Rangers advise everyone visiting the park to stay alert, make sure bear spray is accessible and remain at least 100 yards away from the animals.
Despite the popularity of the country's oldest national park, there have only been eight reported fatal bear attacks since 1872.