Oklahoma inventor handles wind-blown trash problem with design solution
According to the United States Environmental Protection Agency, the total generation of municipal solid waste in 2018 was 292.4 million tons – roughly 4.9 pounds per person a day
NORMAN, Okla. – On a windy day in any given state, it's not uncommon to drive down a neighborhood street and see garbage containers lying around.
Or even worse, wind-blown trash scattered across the lawns.
And after many years of wrangling his trash and occasionally his neighbor's, an Oklahoma inventor set out to create a solution for what seemed to be a pervasive and annoying problem.
"I kept thinking to myself, why doesn't somebody have a device that can go to the top of their garbage can lid and keep trash from coming out," Tony Chapman said.
According to the United States Environmental Protection Agency, the total generation of municipal solid waste in 2018 was 292.4 million tons – roughly 4.9 pounds per person a day.
And until now, Chapman said keeping all that trash secure has been a significant issue due to wind or wildlife.
"When I look at the containers flipped over and the lids open, I realized that's all caused by wind," he said.
And Chapman knows a thing or two about living with the wind. Before moving to Oklahoma, Chapman and his wife lived in Chicago, ironically known as the Windy City. They also lived in Albuquerque, New Mexico, with the extreme wind coming through the passes.
"And then when we relocated to Oklahoma … we found that here it was probably more wind than we've ever experienced in either of the two regions that we lived in," Stephanie Chapman said.
Coming home from work one day, Tony Chapman noticed his neighbors using cinder blocks on top of their trash cans to hold it down. That's when the Heavy Handle was born.
"I was like; there's got to be something better. The poor guy has to drag a cinder block to the garbage can every garbage day or leave it on there," Chapman said.
And while other solutions like bungee cords or heavy objects to weigh the lid down seem to help the issue, they aren't a perfect solution because they can slow down or even halt trash collection completely.
Five years after sitting down at his workbench to sketch out an idea, the Heavy Handle is now pending a patent to secure trash before collection and ending the days of chasing down the week's leftovers.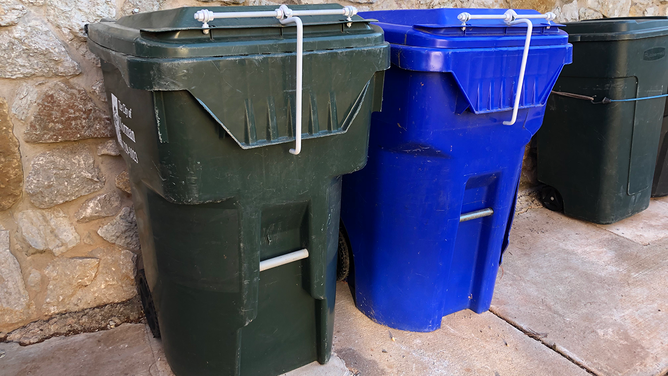 How the Heavy Handle works
A horizontal steel rod attaches to the trash container. A J-shaped handle revolves around the rod. The bottom of the handle, when upright, rests under the lip or skirt of the container which keeps the lid secure. When the truck's robotic arm picks up the container and tilts it forward, it releases the handle which allows the lid to open and release the container's contents.
The couple said they were hesitant about bringing it to market until it was approved due to its simplistic design and avoiding copycats.
"I am so excited for the possibilities of what we can bring to this wonderful planet of ours. We're taking care of a lot of the trash problem that that Mother Nature blows around all of us every single day," Stephanie Chapman said.
The steel device weighs 2.4 pounds and adapts to most municipal trash cans while allowing solid waste trucks and workers to empty the can and haul the trash away.
While most of their sales now come through their website, many neighbors use the device to eliminate the litter.
"We have a vision of seeing this on every trashcan in the world. So we have a big vision," Stephanie Chapman said.
Recently, Tony Chapman went to a solid waste conference in Oklahoma and introduced it to the industry, where he received a lot of positive feedback.
"I'm just hoping that they'll be wide open to the idea because, let's face it, it's a positive in every way for everybody," he said. "My drivers, both the recycler and the regular solid waste, have been thrilled with the fact that they don't have to pick up a turned over container and stand it."
The Heavy handle sells for $40. Click here to learn more.