Oh my, pecan pie: US pecan crop favorable for holiday desserts this year
Good weather and fewer pests helped Georgia take the crown for top pecan producer this season.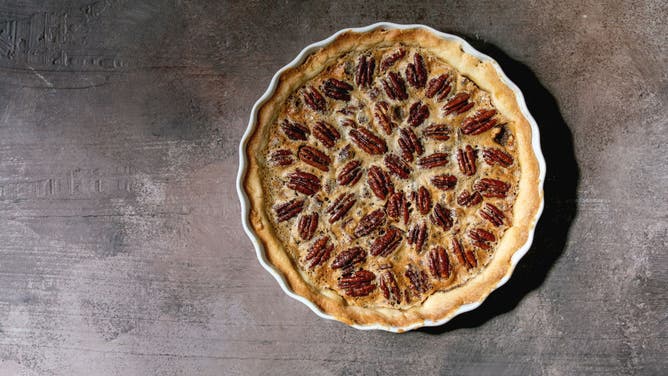 The holiday season is upon us and that means more pies, especially favorites like pecan pie, and no matter how you pronounce it this year's pecan crop brought good news for U.S. home bakers and businesses.
Jaclyn Kramer is a non-citrus fruit and tree nut outlook economist at the U.S. Department of Agriculture Economic Research Service. She keeps track of the agriculture markets and issues reports twice a year about the industry.
Kramer issued her most recent outlook in September for the 2020-2021 season. Pecan season runs from October to September.
"What we were seeing is that the production was up for that season. Some things we saw where Georgia was the top supplier during this season, and this was a result of good growing conditions," she said, adding "Weather did play a role in other top producing states, including Arizona, Oklahoma, and New Mexico, which had freezing temperatures earlier this year, which reduced yields."
Georgia had a better season with limited weather impacts to its crops, as well as fewer pests or diseases compared to the last season, according to Kramer.
The U.S. pecan production for 2020-2021 is expected to be 13 percent higher than last season. The average season grower price was $1.43 per pound of pecans compared to $1.83 last year. The highest price point in the past six years was at $2.59 per pound in 2016-2017.
This is good news for bakers looking to use pecans in their holiday desserts this year.
According to Kramer, an increase in production, high beginning stocks led to an overall increase in supply. "Which meant more available to U.S. consumers and overall with that increase in supplies, there were lower grower prices this past season," she said.
Texas is also among the top U.S. pecan producers.
House of Pies has been supplying the Houston area with baked treats since 1967 where the dinner-style restaurant has four locations. Around the holiday season, it's not unusual for a line of people waiting for pies to be wrapped around the building, according to General Manager Craig Sigurdson.
The Texas-staple is known for its Texas Pecan and the Texas Pecan Fudge pie.
This year, for pecan pies alone, two weeks leading up to thanksgiving House of Pies has already received 2,000 orders, Sigurdson estimates.
House of Pies orders about 50 pounds of Pecans for the two weeks ahead of Thanksgiving. Sigurdson said they shop around and work with different pecan vendors and farmers to find the most competitive price.
"Right now, the price seems good. We got a pretty good price," Sigurdson said of pecans, adding he couldn't disclose the price per pound for business reasons.
Still, he estimates the price is up this year overall due to supply issues similar to what businesses across the U.S. have been experiencing because of shortages in staffing, gas prices, and shipping delays.
"They had a pretty good crop this year," Sigurdson said.
It's not just about the quantity of the nuts, Sigurdson said. House of Pies also looks at the qualities.
"Pecans and pecan halves are stored for a certain amount of time. The fresher, the better," he said.
Buyers also look at the color, taste, crispness and oil.
"If you squeeze the pecan, the oil comes out on your fingers," Sigurdson said, which is a good sign.
This year, he's noticing businesses are ordering pies earlier for holiday parties in quantities of 20 to 30 pastries.
During Thanksgiving week, if you want a pie from House of Pies, you'll have to wait in line because it's first-come, first-serve.
The original House of Pies location can seat about 100 customers for dining. However, the lines for pies go out the door, usually starting the Tuesday before Thanksgiving and dying down on Thanksgiving night.
Sigurdson has been with House of Pies for 34 years and says picking his favorite dessert is like picking a favorite child, but he does have some top contenders, including the coconut cream and the Bayou Goo with chocolate, pecans and whipped cream.
He said what sets House of Pies apart is the ingredients, including real whipped cream and—excellent pecans.