Winning weather for NCAA champion Jayhawks parade in Lawrence
Temperatures in Lawrence are expected to be in the mid-50s under sunny skies

LAWRENCE, Kan. – The Kansas wheat will be waving as the sun shines down Sunday for the thousands of fans expected to gather in a parade honoring the newest NCAA men's basketball champions.
The vibrant colors of crimson and blue will line downtown Lawrence at 2 p.m. to honor the University of Kansas team fresh off their sixth national championship in program history. 
The parade route will proceed south on Mass Street beginning on Sixth Street and finish at 19th Street.
Celebrations will come alive as the Kansas Spirit Squad and band join the escorted team in multiple vehicles.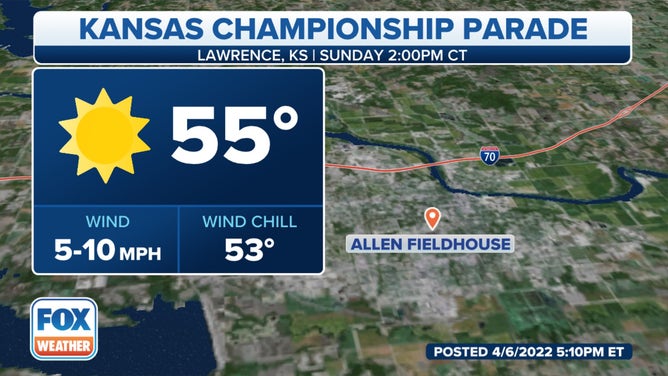 Temperatures in Lawrence are expected to be in the mid-50s under sunny skies.
Mass Street will be closed downtown from 3 a.m. to roughly two hours after the parade ends on Sunday to accommodate the championship parade.
Beginning at 11 a.m. on Sunday, fans can park on campus in Lot 90, the Burge Union and the Computer Center to catch shuttles downtown for the parade. Shuttles will run up to an hour post parade. 
The Jayhawks defeated North Carolina 72-69 Monday night at the Caesars Superdome in New Orleans. The win marked the program's third national championship since 1988 and second under head coach Bill Self.