Missing Florida boater found alive 12 miles off coast
A man in a 12-foot jon boat was found by search and rescue teams off the coast of Vilano Beach, Florida.
ST. AUGUSTINE, Fla. – A missing boater from northeast Florida was found safe 12 miles off the coast of St. Augustine on Saturday after missing more than 24 hours.
According to the U.S. Coast Guard, 25-year-old Charles Gregory was last seen leaving a local boat ramp on Thursday night, and when he didn't return, several agencies initiated a search.
Coast Guard crews used marine and aviation resources, which included a Lockheed HC-130H Hercules aircraft based out of Clearwater, Florida, to search for the missing 12-foot jon boat.
After an all-night search, the USCG reported Gregory was found off the coast Saturday morning.
HOW TO WATCH FOX WEATHER ON TV
The agency said the missing boater was brought back to shore by a search vessel and taken by awaiting EMS crews to a local medical center.
According to the USCG, the man appeared to be fatigued by otherwise in good spirits.
So far, rescue crews have not stated if engine troubles were to blame for the boater becoming adrift in the Atlantic Ocean.
Rescue video showed the jon boat taking on water before crews plucked the man out of the ocean.
Marine conditions do not appear to have played a role in the stranding. A nearby buoy reported wave heights of about 2 feet and water temperature of 85 degrees.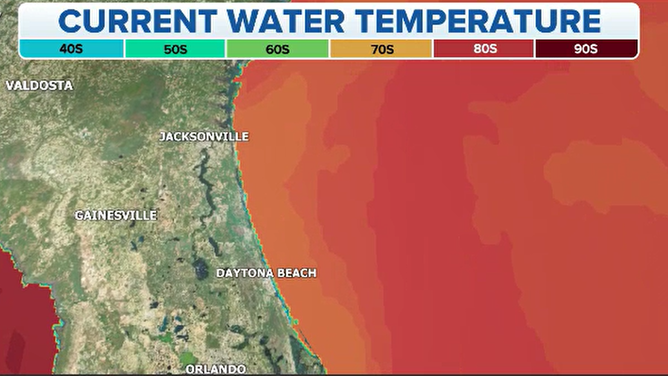 "We are pleased about the outcome in this case, and I would like to thank all of our local and state partners who were heavily involved in searching for Charles and bringing him home to his family,"  Cmdr. Nick Barrow, Coast Guard Sector Jacksonville search and rescue mission coordinator, said in a statement. "While this case resulted in rescuing Charles from a life-threatening situation, it highlights the importance of having safety gear onboard and being prepared for the worst. If you plan to head out on the water, remember to have a life jacket, VHF marine grade radio, signaling devices and an emergency personal locator beacon to contact first responders in case you are in need of assistance."