It's always Winter ( by name only) in these 5 Florida towns
Florida's five winter-named towns offer 70-degree January temperatures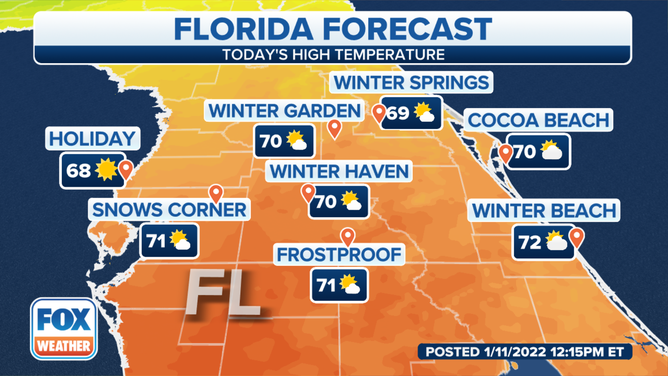 It's no question Florida is a top destination for snowbirds seeking refuge from the cold weather to the north, and it's been that way for generations.
At least five Florida towns were named with winter respite in mind and draw millions of visitors a year for the Sunshine State's warm climate and attractions. 
To mark FOX Weather's Winter Across America week, here's a look at the Florida towns where it's always winter -- by name only.
Winter Springs
On Tuesday, Jan. 11, the high in Winter Springs is 69 degrees with a mostly sunny sky.
Located north of Orlando in Seminole County, Winter Springs' history dates to when Florida was under Spanish control in the late 1700s and early 1800s. According to Winter Springs historical documents, New York merchant Moses Levy purchased thousands of acres in land grants, including what is now Winter Springs, from the Spanish government before Florida became under U.S. control in 1821. 
Lake Jesup is the largest body of water on the north shores of Winter Springs. The 16,000-acre lake connected to the St. John River waterway was accessible by steamboat, making it ideal for settlers and merchants. According to the University of South Florida, the area around Lake Jesup was used for orange groves until the Great Freeze of 1895.
Winter Springs was initially incorporated as "North Orlando" until 1972, when it was incorporated at Winter Springs, according to the town's website. 
With warm winter temperatures, Winter Springs hosts the Central Florida Scottish Highland Games in January. This year the festival runs from Jan. 15 to Jan. 16 at Central Winds Park. Scottish clans and societies compete in athletic events during the two-day event and highlight Scottish heritage through dancing, music, and food.
FLORIDA, EH? WHY SNOWBIRDS IN CANADA LOVE HEADING SOUTH
Winter Park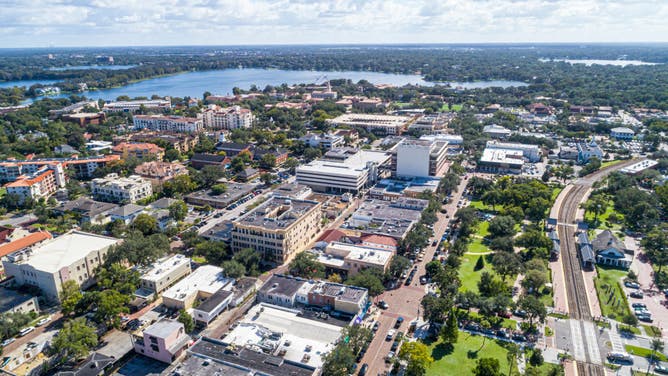 With a high temperature of 71 degrees on Jan. 11, it's no wonder Winter Park was named by its founders as a tribute to a "park in winter."
Originally named Lakeview in 1858 and then Osceola in 1870, the Central Florida city was named Winter Park by Loring Chase and Oliver Chapman in 1887 "as a winter resort for wealthy Northerners seeking refuge from the harsh winters and a tranquil place to rest and relax," according to the City of Winter Park.
When snow is still a possibility in the northern U.S., the Winter Park Sidewalk Art Festival welcomes more than 350,000 people every March. Established in 1960, it's one of the nation's oldest art festivals, according to the Winter Park Art Festival Foundation.
Winter Garden
Established in 1903 at Winter Garden, settlers were first attached to the Orange County town in the 1850s because of the fertile land around Lake Apopka.
According to the city website, the area was known for its citrus industry packinghouses and as the"large-mouth bass capital of the world," according to the city website. According to the city, Lake Apopka attracted tourists for its fishing, and the Edgewater Hotel opened in 1927 specifically for these angler visitors.
Winter Garden is now a popular spot for cyclists who enjoy the 22 miles of paved rail-trail part of the West Orange Trail around Lake Apopka. Several trailheads have connections to the former Orange Belt Railway, including the Killarney Station.
WHERE TO SEE MANATEES IN FLORIDA DURING THE COOLER MONTHS
Winter Haven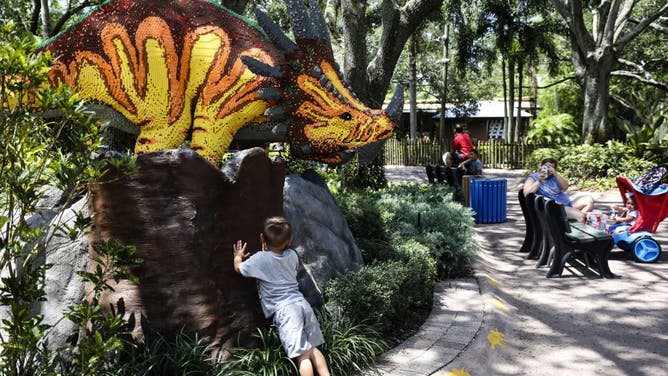 Pioneers began settling in the area that would become Winter Haven soon after Florida became a state in 1845. Known for its Chain of Lakes, Winter Haven offers year-round kayaking, watersports and pontoon boats.
Located in Polk County, south of the Disney World and Universal Orlando theme parks, Winter Haven is home to the Legoland Florida Resort and Bok Tower Gardens. It's also where Florida's first attraction, Cypress Gardens, was established in 1932.
According to historian Josephine Burr's book "History of Winter Haven," Winter Haven's founders arrived via boat and rail. Later, Burr writes, Peter Ecyleshimer named the town Winter Haven in 1911 with a winter resort in mind.
WHY DO PEOPLE BUY ALL THE MILK AND BREAD BEFORE SNOWSTORMS? HERE'S WHY
Winter Beach
Often missed among Florida's winter-named towns, Winter Beach is about 10 minutes north of Vero Beach and only home to nearly 3,000 people, according to U.S. Census Bureau data.
According to the Winter Beach Historical Society, the east coast Florida town was formerly called Woodley in 1893 and then Quay in 1902 before officially being established in 1925 as Winter Beach, according to the Winter Beach Historical Society.
A November 1925 announcement for the new "east coast city" says Winter Beach is "where Sunshine Spends the Winter."