FOX Weather Kickoff: Week 13 FOX NFL picks based on weather forecasts
SportsWeather went 4-1 in picks last week.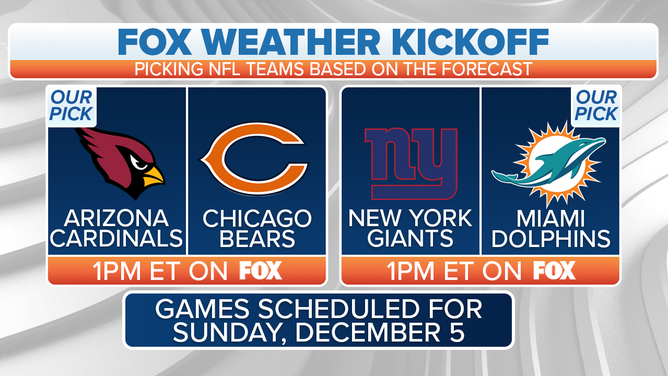 Our NFL Week 13 matchups feature the top team in the NFC and another team on a four-game winning streak, starting to play great football at the right time. 
The Arizona Cardinals come into their game with the Chicago Bears having the best record in the NFL at 9-2. 
The Cardinals won two of three games prior to their bye — beating San Francisco and Seattle on the road with a loss to Carolina at home in between — even though starting quarterback Kyler Murray and All-Pro receiver DeAndre Hopkins missed all three games due to injuries. Arizona is also 6-0 on the road this season. 
Chicago lost five in a row before winning against the winless Detroit Lions on Thanksgiving.
The Dolphins are trying to become the fourth team in NFL history to go from 1-7 to 6-7 as they face the New York Giants. It's a path the Giants nearly took last year when they went from 1-7 to 5-7. 
For the Giants, starting quarterback Daniel Jones was ruled out on Friday with a strained neck. Jones was hurt against the Eagles last Sunday in a 13-7 win. 
RELATED: FOX Weather Kickoff: Week 12 FOX NFL picks based on weather forecasts
On Fridays throughout the season, we pick FOX NFL games based on how teams have historically performed in certain weather conditions using data from SportsWeather. 
SportsWeather.com season record: 28-13-1
SportsWeather has its own metrics system that compiles historical game-time weather data and meshes it against both NFL teams and player historical performance.
SportsWeather doesn't compile data for games that are played in domes and all data is from the last 14 seasons. 
MORE: SportsWeather: Predicting NFL games based on historical weather performances
GAME 1: Arizona Cardinals (9-2) at Chicago Bears (4-7) - 1 p.m. Eastern on FOX 
It will be cold and rainy, with windy conditions at Soldier Field on Sunday. At game time, it's forecast to be 34 degrees (Records - Arizona: 3-5; Chicago: 17-19), winds blowing at 13 mph (Records - Arizona: 9-12-1; Chicago: 35-33), and a 78% chance of precipitation (Records - Arizona: 1-4; Chicago: 73-83). While historically, the Cardinals haven't played in a lot of games with these kinds of conditions, don't count them out on Sunday.
PICK: SportsWeather.com gives Chicago the weather edge, but it won't be enough for a Bears victory. They predict a Cardinals win in a low-scoring game.
GAME 2: New York Giants (4-7) at Miami Dolphins (5-7) - 1 p.m. Eastern on FOX
Compared to Chicago, weather conditions in Miami will be the complete opposite. For this matchup, it's forecast to be 84 degrees (Records - New York: 6-5; Miami: 33-25) with 9 mph winds (Records - New York: 25-75; Miami: 42-52) and a 0% chance of precipitation (Records - New York: 75-86; Miami: 85-92). 
PICK: SportsWeather.com gives the edge to the Dolphins and predicts them to beat the Giants. 
Make sure to check out SportsWeather.com just prior to the game for any late-breaking conditions that could impact the outcome as weather (wind forecasted weather) oftentimes rapidly change.