Forecast for Thursday Night Football on FOX: A pre-game meal to inspire Santa's wish list
Since it's so close to the holidays, Dr. BBQ decided to cook up a pre-game meal that will inspire you to ask Santa for both a grill and a waffle iron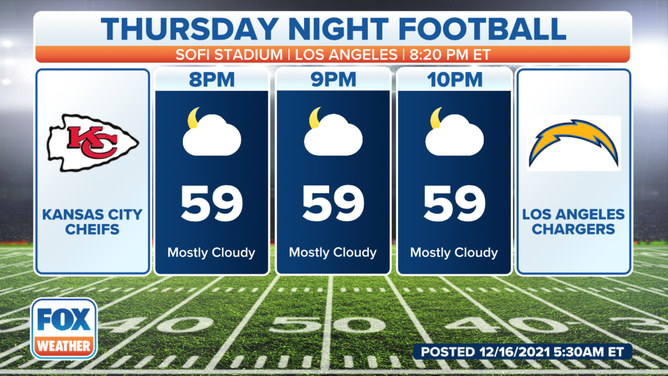 INGLEWOOD, Calif. – The top two teams in the AFC West will battle it out on FOX's Thursday Night Football. 
Will the Los Angeles Chargers complete a season sweep of the Kansas City Chiefs? If so, they will take first place in the division. If the Chiefs come away with the victory, they will reach 10 wins for the seventh straight season. FOX Sports reports Kansas City currently has the longest active streak of six straight seasons with at least 10 wins.
The Chiefs are also 3-0 against the Chargers on the road over the last three seasons.
Forecasters are expecting conditions outside SoFi Stadium to be mostly cloudy with temperatures at 59 degrees by kickoff, which is set for 8:20 p.m. Eastern (5:20 p.m. Pacific). Temperatures will remain consistent throughout the game.
For Chiefs fans firing up the grill at home, skies will be mostly clear with a low around 38 degrees.
Taste of TNF recipe: BBQ chicken and waffles
Since it's so close to the holidays, Ray "Dr. BBQ" Lampe decided to cook up a pre-game meal that will inspire you to ask Santa for both a grill and a waffle iron.
Some food historians say chicken and waffles originated in Pennsylvania Dutch Country back in the 1700s when settlers put stewed chicken and gravy on waffles. Then, in the 1930s, a supper club in Harlem, New York, served fried chicken and waffles to jazz musicians after they finished their late-night sets. From there, it caught on, and the rest, as they say, is history.
Makes 2 servings
Ingredients
4 chicken drumsticks
Barbecue rub
3/4 cup barbecue sauce
¼ cup real Maple Syrup
Waffle batter – made per the package instructions
Directions
Prepare the grill to cook indirect over medium high heat using apple wood for flavor. Season the drum sticks liberally with the barbecue rub and add them to the grill. 
Cook, flipping occasionally for 30 minutes. 
Meanwhile, mix together the barbecue sauce and maple syrup in a small saucepan over low heat. Bring it just barely to a simmer and remove from the heat. Reserve half of the barbecue sauce for plating. Use the rest to baste the chicken on the grill. 
Begin brushing with sauce and continue cooking, flipping and brushing with sauce until the drumsticks reach an internal temp of 190 degrees, about another 30 minutes. 
Using a waffle iron, make one large waffle per the instructions for you iron. Transfer the waffle to a plate and top with the chicken legs. 
Pour the reserved sauce over the top of the chicken and waffles and serve immediately.