Sunshine State's fastest train will soon connect Orlando to South Florida
Similar to Amtrak trains, Brightline service is suspended when there is anticipation of gusts reaching 35 mph within 72 hours. Eventually, a more than 300-mile-long track will run from Miami to Tampa.
ORLANDO - Travelers will soon be able to take a high-speed train between Orlando and major population centers in South Florida, and much like the U.S. Postal Service, neither snow nor rain nor heat nor gloom of night will deviate these trains from their schedules, but extreme weather could be a different story.
Construction on the estimated $8 billion private project began in 2014, with service starting a few years later between Miami and West Palm Beach.
The company said Thursday that there have been some weather events that briefly paused construction, but the infrastructure is on schedule to be in place for a summer opening of the routes between South Florida and Orlando.
"Brightline guests and the travel market have spoken loudly, and we want to respond by opening ticket sales from late summer through the beginning of next year," Patrick Goddard, president of Brightline, said in a statement. "While we are finalizing an official launch date, guests can now book travel for Labor Day, Halloween and holidays through the new year."

The private company reported serving 179,576 riders this past March with expectations that customer counts will significantly increase after service opens to the station at the Orlando International Airport (MCO).
The Orlando site will be the closest station to Walt Disney World and other tourist destinations, which are about a half-hour's drive away.
The company expects to add service along the Interstate 4 corridor and the Tampa region during the next several years and eventually run routes from the Sunshine State's east coast to the bay region.
VACATIONS ACROSS AMERICA: TRAVEL TO AMERICA'S OLDEST CITY
Travel not immune from hurricanes
Brightline services cities that are hurricane-prone, and the company said its trains follow similar protocols to Amtrak, CSX and others that suspend services ahead of inclement tropical weather.
Brightline said it suspends operations when there is anticipation of wind gusts reaching at least 35 mph within 72 hours.
During the 2022 hurricane season, this protocol resulted in operations being temporarily suspended for one day during fringe impacts from Hurricane Ian.
Hurricane Ian briefly attained Category 5 intensity in the Gulf of Mexico before making landfall as a Category 4 along the Southwest Florida coast with winds around 150 mph.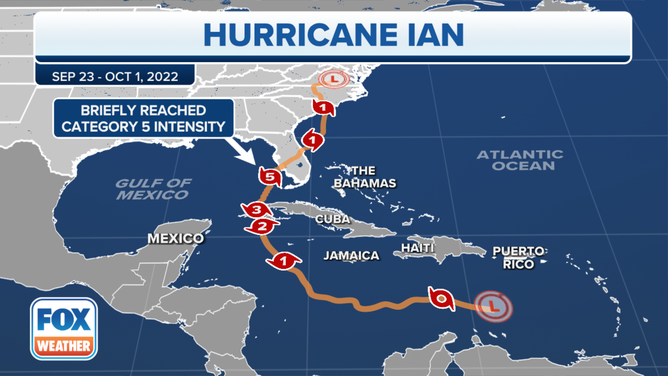 Its compact size left cities such as Miami, Fort Lauderdale, Jacksonville and Tallahassee in a zone in which impacts were considered to be minimal.
After a significant weather event, Brightline said it is up to Florida East Coast Railway to conduct all track and signal inspections to make sure service can be safely restored.
Due to the infancy of the rail line, it has yet to face a significant threat from a hurricane from the Atlantic seaboard, but the potential impact isn't being taken lightly by the company.
"Safety is our number one priority, and our priority in preparation is working with our partners, local law enforcement and municipalities to ensure the rail corridor is secure," a company spokesperson stated.
NEW TO FLORIDA? HERE'S WHEN THE SUNSHINE STATE'S RAINY SEASON GETS UNDERWAY
Ticket prices and booking
A one-way ticket from Orlando to South Florida will start at about $79 for an adult and $39 for children.
Premium fares are expected to start at $149, which includes first-class amenities.
The service includes 16 daily round trips between Orlando and South Florida, which takes nearly 3 hours to complete.
To view the schedules and ticket pricing, visit: gobrightline.com.