Father, son uncover rare elk antler while fishing in northern Missouri
Elk are common in southern Missouri, but the likelihood of that elk getting to north Missouri was very unlikely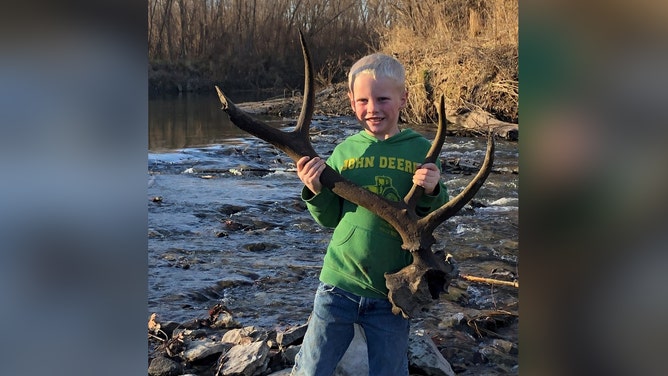 WORTH COUNTY, Mo. – A father and son uncovered what wildlife officials say is a very rare elk antler while on a fishing trip in northern Missouri last week.
Corporal Josh Roller with Missouri Department of Conservation said he was contacted by Ben Clarkson and his son, Sam, on Friday. The two were fishing on Sowards Ford Access on the Grand River in Worth County, Missouri, and found a bull elk antler attached to a skull plate.
They called the department to seek a disposition permit to possess the skull plate legally.
"Looking at the pictures, it looked to be fairly old, but it's hard to tell," Roller said.
Missouri has wandering elk from time to time, but Roller said it is unknown if this bull died from natural causes or if it was potentially something from pre-settlement times buried in the mud.
"I've been doing this for 13 years, and in my career, folks have found a whole of skulls in rivers, but this one is pretty unique, especially the large size of the elk antler," Roller said. "It would have been an impressive bull if he was alive."
This elk would have been called a 4 X 4, meaning it had four points to a side of its skull.
Elk are common in southern Missouri, but the likelihood of that elk getting to north Missouri was very unlikely.
"We do have occasionally wandering elk come from the river corridors from neighboring states that have elk populations," Roller said. "We don't have a population of elk living in north Missouri, but we do occasionally have some that wander through."
It's important to note that with any deer or elk antlers still attached to the skull plate, Missouri wildlife code states that you must contact a conservation agent to receive a disposition permit to possess it legally.