Father, son arrested for allegedly sparking massive Caldor Fire
The Caldor Fire burned more than 220,000 acres and destroyed hundreds of buildings.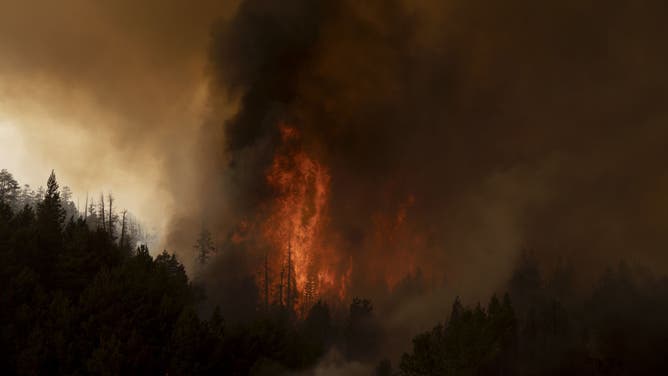 PLACERVILLE, Calif. – Investigators say they have arrested a father and son, who they believe sparked the Caldor Fire in August that burned more than 221,000 acres and destroyed more than 1,000 structures.
The El Dorado County District Attorney's Office identified the suspects Wednesday as David Scott Smith, 66, and Travis Shane Smith, 32.
Investigators have not released details on how they believe the pair is connected to the fire but said the suspects face charges related to "reckless arson."
The blaze is believed to have been started in mid-August and burned through several counties in Northern California.
The proximity of the fire from South Lake Tahoe, California forced more than 20,000 residents to evacuate from the town.

Mark Reichel, the attorney representing the two suspects, told FOX Weather, "My clients were the ones who called 911 to report seeing the fire. My clients are long-time, well-respected members of that community and ask that those observing these events await the real evidence, from a court hearing, before they make up their minds."
RAGING CALDOR FIRE DESTROYS SMALL CALIFORNIA TOWN AS DOZENS OF HOMES BURN
Luckily, no fatalities were reported from the blaze, but there were several injuries, according to KTVU FOX 2.
Cal Fire reports the Caldor Fire was one of more than 8,300 events worked by firefighters in 2021.
A recent congressional report determined that around 88% of the wildfires that occur each year are human-caused.