Family builds 40-foot-tall snowman in Wisconsin
A family construction business sculpted the snowman in their parking lot with borrowed snow and construction equipment in just three and a half days.
MILLTOWN, Wis. – Friends and family built a 40-foot-tall snowman in Milltown, Wisconsin – 44-feet high if you include the hat. The supersized Frosty's base layer is about 70 feet around, the torso is 58 feet, and the head is 45 feet.
BEFORE 'FROSTY': THE ORIGIN STORY OF THE MODERN SNOWMAN
How did Craig Carlson make the icy giant? He and his family used equipment from his construction company, Carlson Construction. The family built 14-foot high plywood molds for the layers. And they used a telehandler, which Carlson calls a forklift on steroids, that reaches 55 feet and lifts to 10,000 pounds.
No corncob pipe or button nose for this guy -- Carlson used trees for arms, a five-gallon bucket for a top hat, a smile of and saw blades, cut corrugated steel plates for buttons and eyes and a 75-foot-long scarf.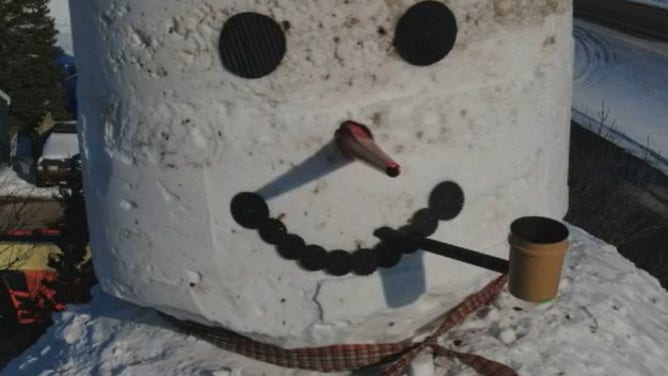 He had to use snow plowed off nearby parking lots for this massive, frozen traffic-stopper. Monday, he told FOX 9 that about 50 people stopped their cars to take pictures. Carlson asks for donations. Proceeds go to the Milltown Community Club's 75th-anniversary firework show. 
The project took three and a half days.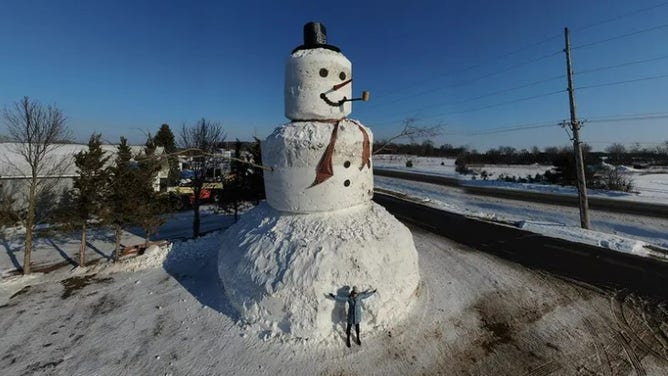 This tradition started during the 2019/2020 holiday season when the town hosted a business Christmas decorating contest. Carlson Construction took first prize with a 'puny' 19-foot snowman.
"We all enjoyed it so much the first year we kind of progressed," Carlson told FOX 9.
There is no need to rush to catch a glimpse of the yet-to-be-named snowman. Last year's 32-foot tall snowman stuck around until May. "But this one's a lot bigger than that one was," he said, explaining that last year's body was 10-feet skinnier.
In the immortal words of Frosty, "Don't you cry, I'll be back again someday…." Carlson's son wants to build a 60-footer next year despite equipment limitations.
The family will need a lot more snow to break the Guinness World Record for the largest snowperson. The community of Bethel, Maine, sculpted a 122-foot snowwoman in 2008. Guinness says the 13-million-pound beauty was only a few feet shorter than the Statue of Liberty.