FAA adding weather stations across Alaska to increase aviation safety
The FAA and National Weather Service currently manage 132 similar weather sites across Alaska.
ANCHORAGE, Alaska – The addition of eight weather observation sites to the country's largest state is expected to help pilots with takeoffs and landings and benefit the meteorological community by providing weather readings from Alaska's vast wildness.
The Federal Aviation Administration made the announcement on Tuesday and said the new sites will join the 132 weather locations that are already managed by the FAA and the National Weather Service.
The systems are expected to provide continuous, real-time weather information from several areas of The Last Frontier.
"We are very glad to see them being coming online. These are going to be helpful for us in a number of ways," Eddie Zingone, a warning coordination meteorologist at the NWS office in Anchorage, said.
The new stations will be located in Akiachak, Coldfoot, Crooked Creek, Kotlik, Nulato, Perryville, Tok Junction and Tununak.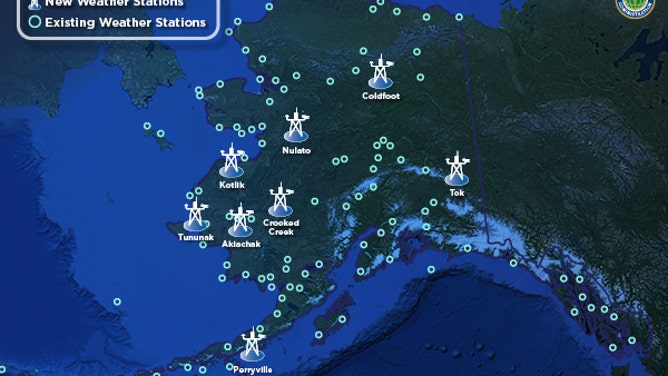 The FAA said the sites will give pilots a preview of what to expect before arriving and help increase aviation safety.
"We heard from the Alaska aviation community that they need more real-time weather information to operate safely, and we are delivering on the commitment we made to provide that," FAA Administrator Steve Dickson said in a statement.
THE DEADLY AIRLINE CRASH THAT CHANGED AIRCRAFT DE-CING STANDARDS
The new observations sites come after a sweeping review by the administration that found that the lack of viable weather data was a challenge for the aviation community.
The 2021 report stated: "The mountainous terrain and high latitude weather patterns create significant logistical environmental challenges for safe air travel."
The FAA expects to have the new weather sites operational by October 2022.