Chill out in a hotel room made of ice
The Icehotel in Sweden built ice rooms that are sleeping quarters and works of art.
Imagine sleeping in a 23-degree bedroom, then imagine requesting it and paying extra to be on ice. The Icehotel in Jukkasjarvi, Sweden sculpts one-of-a-kind hotel rooms out of ice and snow every Fall so that guests can sleep in their own icebox.
After checking in, customers are issued Arctic sleeping bags. Then a guide instructs them how to 'survive' the evening: how to wear your parka, arrange your reindeer hide and bundle up in your sleeping bag to make it through the night.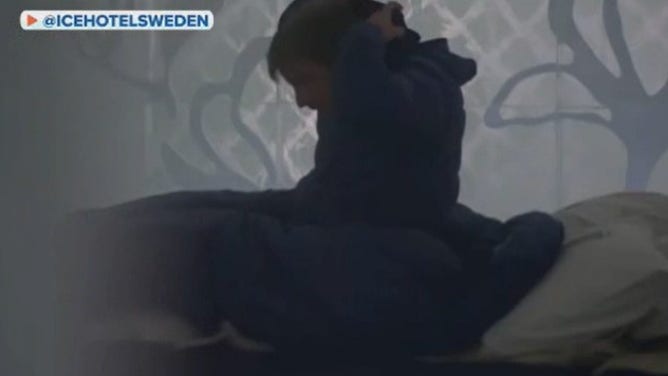 The brave overnighters earn a diploma after sleeping in the cold rooms. It notes the date, inside and outside temperature. Outside, winter temperatures can drop to 40 below.
"You're actually quite comfy," Luca Roncoroni, Creative Director for the Ice Hotel told FOX Weather recently. "Obviously your nose will get a little bit reddish through the night."
There is no plumbing or storage in the ice rooms so patrons head to a separate and heated bathroom, sauna and living room area.
Take a look at the photos and see that each room is a work of art that visitors can tour by day and some guests sleep in at night.
Guests, according to the hotel, generally choose to spend just one night on ice and the rest of their stay in "warm rooms" or traditional heated hotel rooms.
Each room is different, "We never have a theme. So the artists are completely free to do whatever they want. The only thing the only requirement is that must be a bed."
Roncoroni picks 30 artists from hundreds of applications worldwide to re-invent the Icehotel each year as the cold rooms melt in Spring. "So this is kind of the lifecycle of the Ice Hotel. All the material comes from the river. We build on the shore and then it melts down and goes down to the river again," said Roncoroni.
The hotel harvests the ice from the nearby Torne River in March when Roncoroni says the ice is thickest at 3 feet. Workers store hundreds of massive two-ton blocks in a cooler until November when craftsmen start sculpting the icy rooms, bar and even chapel. So far 80 couples have tied the knot below freezing.
Artists work with architects, designers and engineers and also use around 33,000 cubic yards of man-made snow to construct the ephemeral art/building. That much snow would cover over 6 football fields a yard deep.
Online, the Icehotel still shows limited availability for ice rooms ranging from $650-$1380 per night. Warm rooms run $215-$350 a night.
Not surprising, the Icehotel offers year round ice sculpting classes.