Artist creates snowy tribute to Bills quarterback Josh Allen
The 12-6 Bills will take on the 13-5 Chiefs in Kansas City, MO, on Sunday
CUBA, N.Y. – If you are in Upstate New York and happen to venture down South Street in the usually quiet town of Cuba, don't be surprised if there is a line to snap a photo next to quarterback Josh Allen.
Don't worry- the Buffalo Bills player isn't skipping out on Sunday's showdown with the Kansas City Chiefs, an 8-foot tall replica of the QB created by caricature artist Eric Jones sits ready to toss the next winning touchdown.
Jones' works are infamous around town and usually capture worldwide attention, but he says the fate of his latest masterpiece was in the hands of Mother Nature.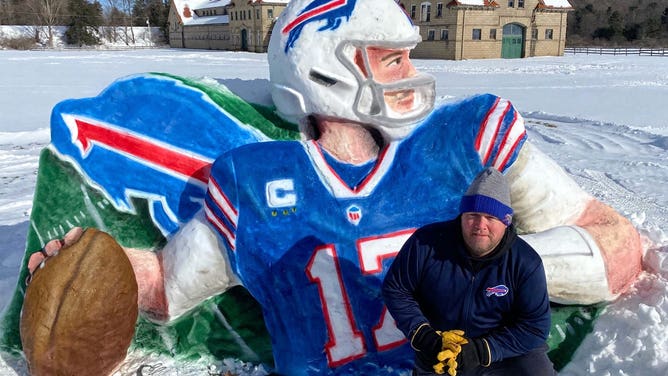 "All season, we haven't had any storms at all, and this snow came at the right time," Jones said.
Just this week, the area reported its heaviest snowfall of the season, seeing nearly a foot, and providing plenty of material for the artist to pack together to form the sculpture. 
With the newly fallen white powder, Jones said it took him a couple of days with help from fellow artist Vinny Alejandro to construct the masterpiece.
"It's not that difficult. I built wooden forms and then used a tractor to pile and pack the snow. Once the snow settled, I removed the forms and sculpted it- just like you would with stone or sand," Jones said.
The artist said once the snow settled, it took him and his friend about four hours to paint the frozen figure.
Because the coats don't hold up well in New York's cold winter weather, Jones said they usually have to reapply the paint to keep the figure looking fresh.
SNACK HACK: NFL STADIUM SOIL USED TO GROW POTATOES FOR POPULAR TAILGATING MUNCHIE
"The paint flakes off every six to eight hours, so you have to repaint it at least once a day. We won't be repainting it after Sunday. So, hopefully, the Bills win, and I'll tear this one down and build another one," Jones said.
Jones believes the Bills will sneak out a win over the Chiefs scoring 27 points to Kansas City's 24.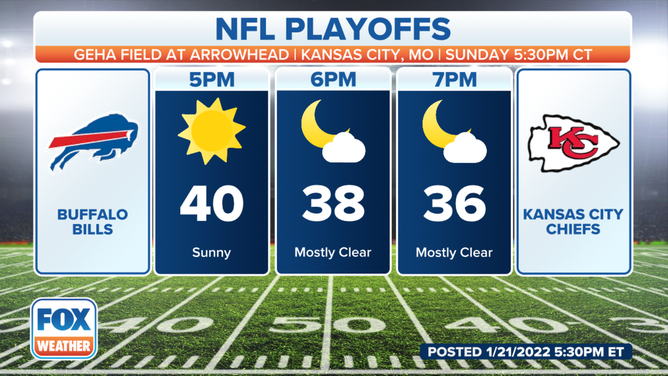 In addition to his home team, Jones said he will also be rooting for the Cincinnati Bengals to outplay the Tennessee Titans- a win by the Ohio team and his Bills would ensure a future playoff game in Buffalo.
"I'd love to do a huge sculpture outside of Highmark Stadium," Jones said.
The artist hopes that his work will not only help keep spirits high among the Bills nation but also raise funds for a good cause.
Jones said money put in a donation box near the statue will go to Hope Rises, an organization that aims to spread love and goodwill across the globe.