Why winter is the best time to prevent further spotted lanternfly infestations
Check for silly-putty-like nests in wood, chimneys and on outdoor furniture
Twenty years ago, when Richard Blair left his construction job to open a vineyard in Kutztown, Pennsylvania, he knew he would have to deal with the weather but never expected the problems an invasive species could have on his business. 
In 2014 spotted lanternflies covered his grapevines at Setter Ridge Vineyards. "By 2017, the vineyard was dead," Blair said. 
According to Dr. Amy K. Korman, a Penn State Horticulture Extension educator, the first lanternflies began appearing in 2014, but it's possible the bugs were in Pennsylvania before researchers caught on.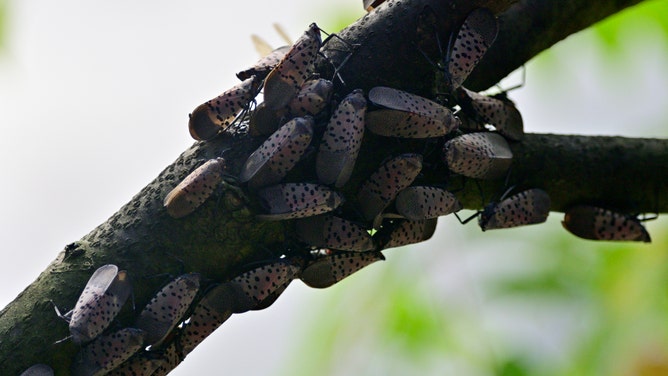 The insects are an invasive species with ties to Asia but can be found around the globe. They have been devastating to grapes and can be dangerous to trees. Pennsylvania is the top hardwood producer in the country.
"They really like grapes. They can be devastating to grapes," Korman said.
The pests can be a "tree stresser," making a plant unhealthy and more susceptible for organisms to attack it. If a tree is heavily infested, it might not grow as much. Korman recommends protecting young saplings, which can be a favorite host of the lanternfly. 
Korman said the infestation started in one municipality in 2014 when the Pennsylvania Department of Agriculture issued a quarantine alert informing residents about the bugs. A few years later, the Department was issuing quarantines by county. 
As of 2021, there are about ten states with active infestations of lanternflies, including Connecticut, New York, New Jersey, Ohio and Indiana. 
How to stop lanternfly hitchhikers 
As the winter months approach, Korman said that the adult spotted lanternflies will die with the first hard frost, providing some relief to overwhelmed crop managers. 
"Sometimes they even die with their male parts attached to a tree," Korman said. "But it doesn't affect the eggs."
At the beginning of the lanternfly invasion, Korman said researchers suspected that the climate was too harsh for the eggs to survive.
"But here in Pennsylvania thus far, it's not so cold enough to kill the eggs in the winter," Korman said, adding the offspring have survived the winter since 2014.
Still, with the adult spotted lanternflies gone, winter can be the best time to look for nests and also help prevent more spreading.
"They are really, really good hitchhikers," Korman said. 
As adults, they like to move around, and they will lay their eggs on all kinds of material: Camping equipment, patio furniture, firewood and boats.
Korman said if you have home cut firewood, burn it at home. Spotted lanternflies could be in the logs, and moving the firewood around gives them another way to travel.
Wood purchased from a big box store such as Home Depot or Lowes is treated, but if you've chopped down a tree locally, some pesky insects could be there.
"We want to make sure we're not moving egg masses around," Korman said.
Lanternflies also like to hide out in chimneys or lay nests in hidden places. If they get inside a home, Korman said they are not harmful to humans or pets, just annoying. She recommends checking the chimney before opening the flue to start a fire this winter. 
Spotting an egg nest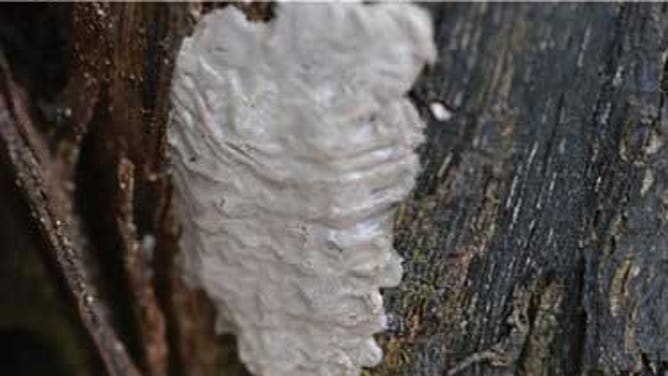 People can spot the nests easily. Look for a silly putty or mud-like substance, usually only a few inches long, Korman said.
"Egg masses look like silly putty was smeared on something … the eggs are small little eggs. They lay about 40-50 at a time, and the female covers them with a coating, and it looks to me like silly putty," Korman said.
The nests dry over time, and it looks like dried mud. 
Lanternflies will lay eggs until the first hard frost, and then in the spring, the eggs hatch.
Why grapes?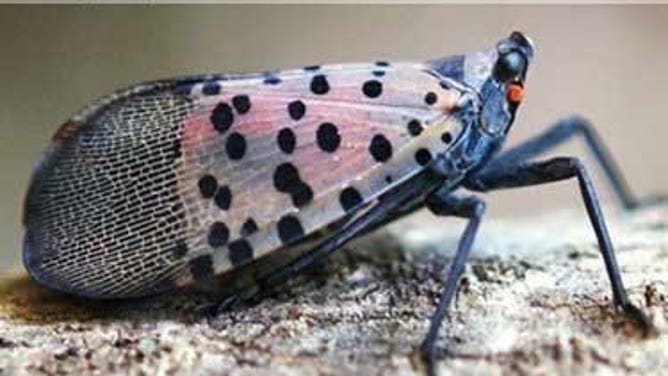 Korman said there is a list of more than 70 plant species the insects eat, but there isn't a definitive answer to why they like grapes so much.
"It may be ease of feeding. Generally, we say things that they feed on its related to proximity," Korman said.
The loss of grapevines due to infestation cost Blair $200,000. His family is starting over, but lanternflies are still a problem. 
Blair has replanted and has more than 20 acres of new grapevines. 
"They're sucking the juices out of the vine, and the juice for this sucking out is what we need to ripen our grapes since, make our grapevines survive a cold winter," Blair explained.
Missy Wilson works with her father at Setter Ridge Vineyards. She said she walks the property, trying to kill the bugs as she sees them.
"I came outside for a couple seconds, and I thought I was just going to do one loop around the patio to kill, you know, whatever I saw. Well, one loop turned into four loops turned into five loops turns into an hour." 
The family now has a strategy to kill the bugs killing their crops. From August to November, when the adult insects are still active, they spray them with insecticides.
"We've gone through so many harvests now where we've been with them. And, truthfully, nothing's really changed. We just know how to kill them with chemicals," Wilson said.
According to the Pennsylvania Department of Agriculture, a 2019 economic impact study estimates that if the bugs remain uncontrolled, the problem could cost $324 million annually and more than 2,800 jobs.
Korman recommends residents keep in touch with their local extension office to find out if there are infestations in their area and for more tips to prevent spreading spotted lanternflies. 
Residents can also report a suspected lanternfly investigation and learn more about prevention online here.