Bombardment of radiation on astronauts furthering cancer research on Earth
Exposure to high levels of radiation in space are leading to improved cancer treatments
Cancer treatments are advancing due to the exposure of radiation on astronauts high above Earth's surface.
NASA has determined that a six-month stay in space can lead to the same amount of radiation as 1,000 chest X-rays.
This unhealthy exposure increases the risks of cancer, bone loss, and heart disease and can damage the nervous system.
The space agency admits it is difficult to determine how much radiation humans are exposed to but believes dosimeters located in spacesuits can give experts a general idea of levels.
"The radiation type is different in space from what people are exposed to on Earth, and we have limited knowledge about the risks, especially for long-term space missions to the Moon and Mars," said Honglu Wu, a senior scientist at NASA's Johnson Space Center in Houston. "We want to have some biodosimetry information or some reliable biomarkers to predict that risk."
Researchers' quest to learn more about radiation has even triggered them to put monitoring devices on manikins that will take a lap around the moon during the Artemis I mission.
MEET THE MANIKINS THAT WILL HITCH A RIDE ON NASA'S MOON ROCKET
The goal is to understand the potential changes in a human's DNA, which can be a root cause of cancer.
According to the National Cancer Institute, cancer begins when cells divide uncontrollably and spread into surrounding tissues during genetic changes.
NASA said efforts such as comparing samples of an astronaut's DNA taken before and after the crew's flight could provide a glimpse of the molecular changes within a human body.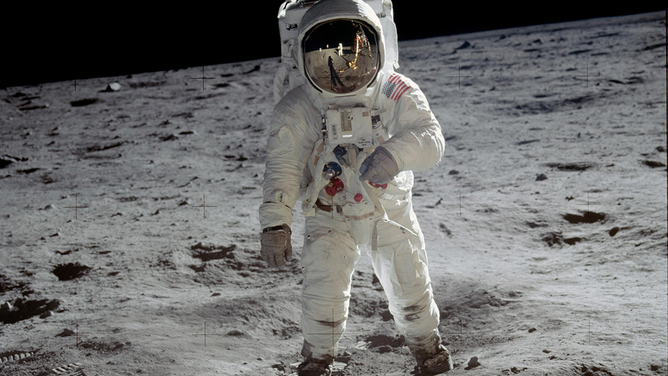 "Using cancer as an example, by the time you detect the markers for cancer, it's already too late. We want to be able to determine the risk sooner, so we can take some countermeasure actions earlier or limit flight time," Wu said in a statement.
With each mission, data is shared with public and private sectors that have helped advance knowledge and lead to further research.
HEAR AND SEE THE 'RARE' IMPACTS AFTER LARGE METEOROID HITS MARS
NASA points to a system developed by biotechnology company Promega, which can help determine the status of cancerous tumors.
Health experts said knowing the molecular makeup of cancer cells can make treatment more effective, but there are still plenty of headwinds to make regarding the disease's roots.
"Research projects like the one that NASA funded with Promega years ago lead to unexpected things," Annette Burkhouse, a medical affairs officer for Promega, said in a statement. "With that improved detection, we can better help physicians and patients make good decisions about treatment options. That's where the broadest impact is."