Great white shark 'hotspot' off Cape Cod one of largest in world, study finds
The first seasonal population estimate of great white sharks feeding off of Cape Cod during the summer and early fall shows that numbers rival and even exceed areas previously thought of as hot spot for sharks.
You won't have to look far to find one of the densest great white shark populations in the world, as researchers recently discovered an abundance of the toothy fish teeming off of Cape Cod.
"Cape Cod is the only area in the region where researchers can feasibly monitor the population, and our estimates suggest that the Cape is among the larger white shark hotspots worldwide, which is good news from a conservation standpoint," lead author study Megan Winton said in a University of Massachusetts, Dartmouth interview – from which Winton is expected to earn her Ph.D. this year.
Winton and fellow researchers estimated that over 800 individual great whites resided in and/or migrated through the iconic Massachusetts beaches between 2015 and 2018. The cold-blooded animals feast on gray seals in the summer and fall months when the water is relatively warm.
GREAT WHITE SHARK ENCOUNTERS INCREASING DUE TO WARMING SEA TEMPS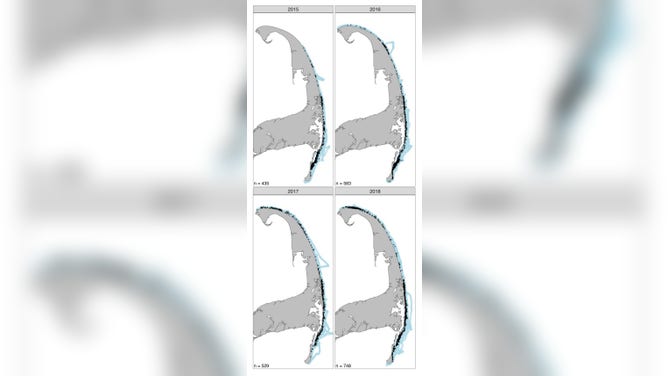 One of densest white shark grounds in the world
"Our estimate of 800 (393−1286) individuals for the 4 yr survey period is comparable to but larger than most previous estimates for other white shark aggregation sites near pinniped (carnivorous aquatic mammal) colonies conducted over similar time frames," states the study published in Marine Ecology Progress Series.
"…Studies conducted over multiple years off South Africa, central California, South Australia and Guadalupe Island, Mexico, have estimated aggregation sizes from 78 to 1279 individuals," authors continued. "This suggests that Cape Cod is among the larger aggregation sites worldwide, especially considering that our estimate is likely an underestimate." 
The study is groundbreaking as the first-ever white shark population estimate for the Northwest Atlantic. 
"There was never a population estimate for white sharks in the Northwest Atlantic," Winton told National Geographic in the "Return of the White Shark" documentary, where she talked about her research. "It's one of the most mysterious populations of white sharks on the planet."
SPOT THE WHITE SHARK! MANY CAN'T IN THIS PHOTO TAKEN OFF CAPE COD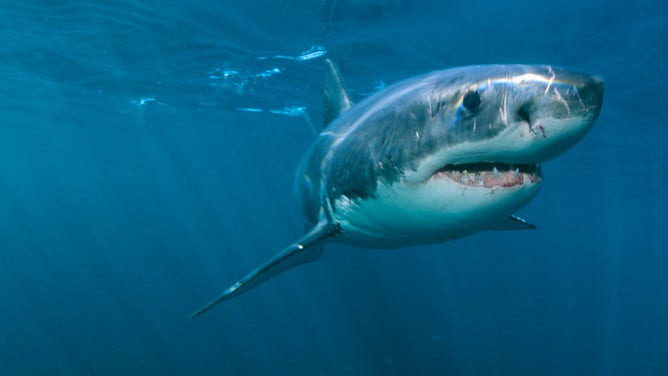 Great whites making a comeback
"Just when you thought it was safe to go back in the water," the memorable line from the movie Jaws may not have told the entire story. Great white sightings and interactions were rare in Cape Cod before 2017, said the study.
"White shark populations throughout its circumglobal range declined as commercial and recreational fisheries and shark control programs expanded during the latter half of the twentieth century," authors wrote. "In some regions, it is estimated that white shark abundance decreased by as much as 70−90% before protections began to be put into place in the 1990s by both individual countries and international treaties."
The sharks made a rebound. Shark numbers actually increased every year of the study. To measure the effectiveness of the protections and manage future conservation, scientists need better population estimates. A recent survey of white shark scientists found that the top research priority. The Cape Cod population made a comeback after the return of gray seals, thanks to the 1972 Marine Mammal Protection Act.
PHOTOGRAPHER RECREATES 'JAWS' POSTER WITH GREAT WHITE SHARK IN THE WILD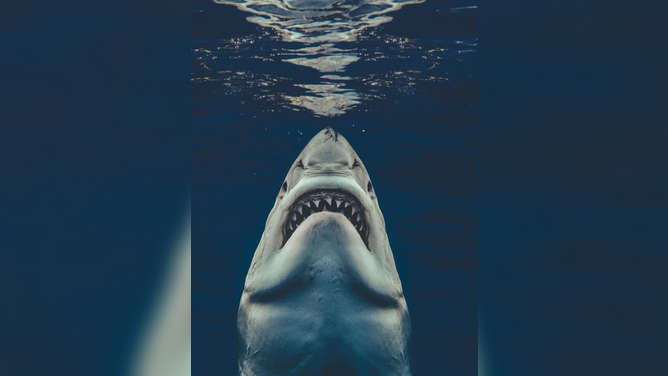 Beach safety versus shark conservation
"As recovering populations return to regions where they have long been rare or absent, increased interactions between sharks and humans can create conflict and undermine public support of conservation policies," warns authors. "Although the overall risk posed to recreational water users remains low even at aggregation sites, the sensational media coverage that typically accompanies white shark sightings and attacks on humans generates fear and can skew perceptions of risk."
Beaches closed last year several times due to shark sightings in the area. In one week in August 2022, officials confirmed over 20 great white shark sightings off the Cape.
"We realized that it was important to start thinking about public safety," Greg Skomal, another study author, stated in the TV documentary. "We started really looking intensively at the predatory behavior of the white shark."
STAY SHARK SMART: WHAT TO KNOW WHEN YOU HEAD INTO THE WATER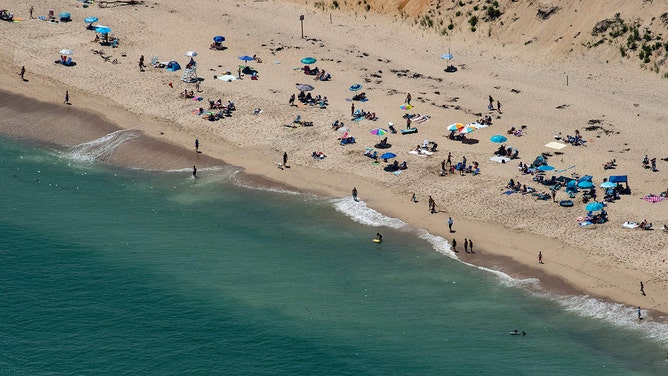 He said researchers need to learn more about the "when, where and how" white sharks hunt and attack their prey.
"If we find patterns in behavior, then we have an ability to predict or forecast where these animals are likely to be relative to human activities," he added in the documentary.
The last fatal shark attack on Cape Cod was a boogie boarder in 2018. The September attack was just 30 feet off the beach, and that was the state's first shark attack fatality in 82 years, according to the Boston Herald.