'Weather always ups the ante' during building implosions, expert says
Watch some of a veteran demolition expert's memorable implosions. He explained why being ahead of the weather is so important for every single project.
Imploding a building requires powerful explosives, but the second-generation owner of Controlled Demolition (CDI) argues that weather can be more powerful in his line of work. 
Mark Loizeaux, president of CDI, said he fields calls from governors and CEOs to help take down dangerous and outdated structures, and the first thing he checks is the weather.
"The weather plays a role in every single project we undertake and every decision we make about the project," Loizeaux said. "We use it to our benefit or to protect ourselves against it."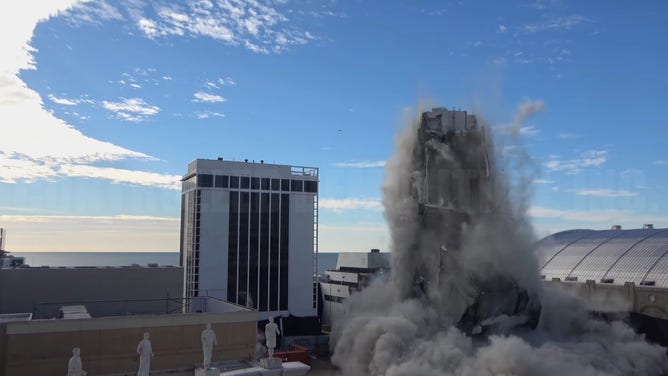 He looks at the weather as both an ally and an enemy when taking down buildings. Many times, weather damage and wear and tear are the reasons he needs to take it down in the first place.
"It takes a lot to get me excited," said the man who works with explosives every day. "I'm a very calm person, but I definitely get excited about the weather."
His favorite birthday gift last year was a storm-chasing vacation.
Loizeaux shared some of his most memorable projects when the weather had everything to do with it.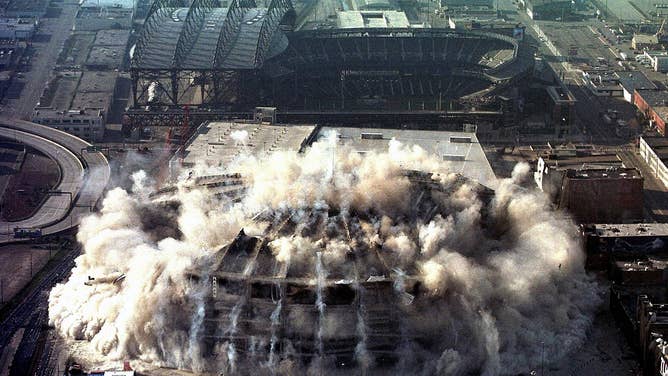 Tropical Storm Elsa threatens Florida condo collapse survivors
The 2021 collapse of the Surfside, Florida, Champlain Towers South killed 98 people. The search for survivors captivated TV audiences, but rescue crews needed help, and Loizeaux said he was called about a week into the operation.
"So Governor DeSantis and his emergency management department contacted us," Loizeaux recalled. "They said, 'We need to get up close to the building, but we can't because winds are causing debris to fall. We're not allowed to put our rescuers at risk.'"
Tropical Storm Elsa threatened off the coast with even stronger winds. Conventional destruction could trigger another collapse that could crush any survivors trapped in air pockets, Loizeaux said.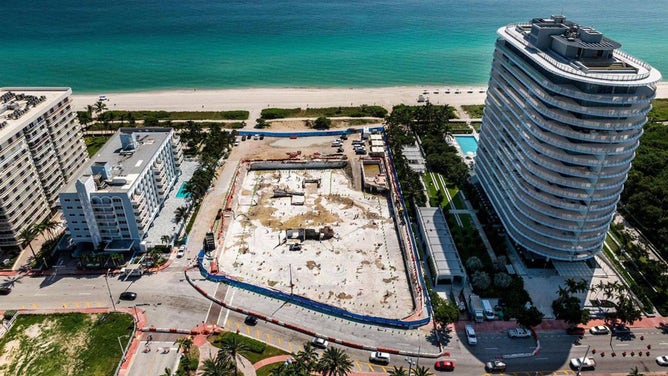 "They asked how long it would take us to put the structure on the ground," Loizeaux said. "And I said, 'Probably 24 hours, actually about 10 seconds, but 24-hour lead time.'"
He said that an hour after felling the tower, rescuers were combing through the debris and looking for survivors again.
"Weather always ups the ante," Loizeaux said. "Man thinks he's got something designed to beat the weather. The weather comes up with a new category of a storm, and you've got to rewrite the books."
EXPERTS PREDICT SLIGHTLY BELOW-AVERAGE HURRICANE SEASON IN ATLANTIC DUE TO EXPECTED EL NINO INFLUENCES
Wind threatens to topple partially collapsed Hard Rock Hotel in New Orleans
When a partial collapse of the Hard Rock Hotel in New Orleans, which was still under construction, damaged two tower cranes in 2019, officials called Loizeaux.
"They were literally moving several feet in the wind at that point in time," said Loizeaux. "Mayor Cantrell literally had to shut down something like 40 square blocks of New Orleans simply because of the height of the cranes."
HOW TO WATCH FOX WEATHER ON TV
Wind helps when blowing implosion dust, but hurts when it generates static electricity in the desert
He keeps a close eye on the wind direction. No matter how much planning, it is the microclimates that dictate when a building comes down, he said. 
When felling a Baltimore power plant, the team had to wait for a small window of time when the wind shifted slightly to blow the dust away from a neighboring community.
He and his crews bring anemometers to measure wind speed and direction at different levels of each structure to be imploded.
"So we use the weather," Loizeaux said while relating an example of a tornado-damaged wind turbine. "We use it as an ally, like when I would need the wind to push a tall, slender structure a certain direction away from something that's supposed to remain." 
He said he tries to use the least amount of explosives possible by harnessing wind energy and gravity.
Some of his contracts specify the wind direction and speed ranges. Winds can tear down debris-blocking curtains putting neighborhoods or roads in danger. Winds can also whip up electricity.
"If we're out in Nevada, for example, and there are winds, and there's a dust storm. We have to back off because of the static electricity that is caused by those winds," he said. "Even a snowstorm generates static electricity." 
Lightning and static charges can set off explosives prematurely.
WATCH A WIND TURBINE DISINTEGRATE IN TEXAS AFTER A LIGHTNING STRIKE
Taking down a turbine in high winds
Sometimes he has to work in rough weather to take part of a structure down to minimize damage to foundations. A company recently called him to take down a damaged wind turbine in high winds to prevent "vortex-induced vibration." The Tacoma Narrows Bridge collapsed due to a similar phenomenon.
As the wind blows around a circular structure, he said, it creates a harmonic motion or vibration. That vibration can tear apart the foundation on which a company hopes to build a new turbine.
"We consider the wind to be adversarial from a safety-of-personnel standpoint when we're dealing with compromised structures," he said. "The weather plays a role in every single project we undertake and every decision we make about the project."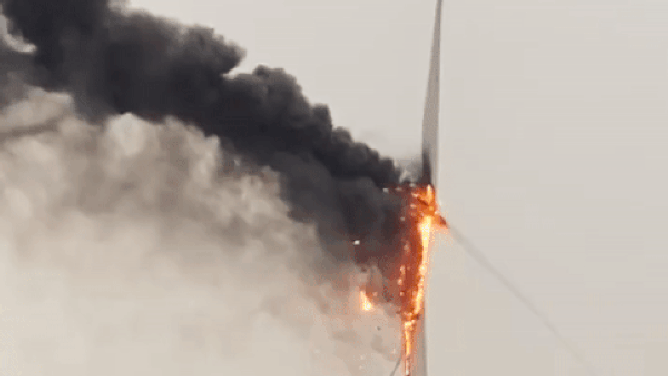 Cold snaps Wisconsin bridge
Cold can also be detrimental. The Wisconsin governor summoned CDI to quickly demolish a bridge after frigid temperatures snapped the steel. He had to set explosives to prevent any further damage to the anchored portion. Engineers would need those areas immediately adjacent to build a replacement.
Only minutes to spare when storms or ice move in atop bridges and towers
Local forecasters and weather sites give teams alerts on thunderstorms, changing wind directions with height and icing. Timing and advanced warning keep his crews safe.
"We might only have 5 minutes' warning if you're working in Tampa Bay, thunderstorms pop up every single afternoon," he said. "You don't want to spend an hour and a half climbing to the top of a bridge, knowing that, that afternoon, you may only have 10 minutes to get down before lightning is bouncing all over you."
He monitors weather conditions at different heights. Weather often dictates how long it would take someone to get from the top of a project to the safe exclusion zone. He said climbing down from an icy bridge is just as treacherous as doing it in lightning.
His teams need to monitor the weather as the dust settles after the implosion and throughout the debris removal process.
Las Vegas never sleeps for implosions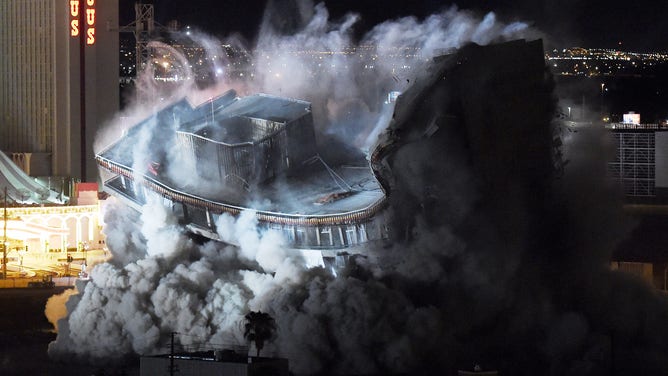 Time of day also matters. Most regulatory agencies require Loizeaux to blast during the day. But not in Las Vegas. He says every one of the 20 to 30 building implosions he has done there took place at 2:30 a.m. on a Tuesday, when the fewest number of people are on Las Vegas Boulevard.