Watch: Tornado traps couple in car on Florida beach
Afternoon thunderstorms quickly whipped up this apparent tornado on a Florida beach, taking beachgoers by surprise.
NEW SMYRNA BEACH, Fla. – The weather turned quickly for a couple enjoying Saturday at the beach. An apparent tornado spun up and swallowed the car they sheltered in.
Wild video shows sand, wind, ocean spray and debris, including boogie boards circling the car parked on New Smyrna Beach, Florida.
"Oh my god," the woman in the car repeatedly says. "This is not cool."
The tornado pushed off the beach and transitioned to a waterspout. 
THIS IS A LIFE CYCLE OF A TORNADO
FOX 35 Meteorologist Ian Cassette spoke to the NWS about the phenomenon which they called a "boundary-induced tornadic waterspout." The NWS states that "Tornadic waterspouts are simply tornadoes that form over water or move from land to water."
WHAT'S THE DIFFERENCE BETWEEN A TORNADO, WATERSPOUT, LANDSPOUT AND DUST DEVIL?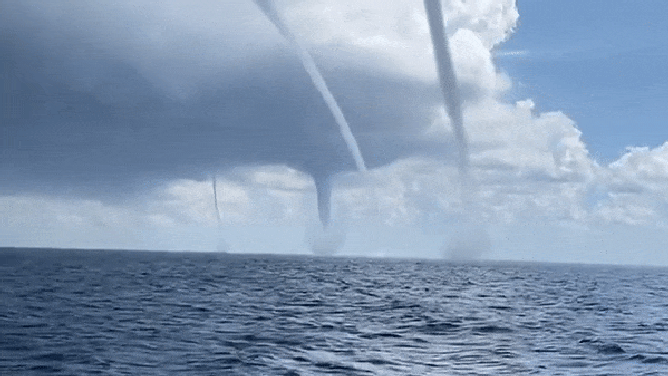 The boundary can be the meeting of winds blowing in separate directions like a sea breeze just developing.  The leading edge of a sea breeze is also a boundary between cooler and warmer air.
The NWS issued a Hazardous Weather Outlook from nearby Daytona Beach to the Keys. Forecasters expect more frequent cloud to ground lightning and winds gusting to 50 mph.
"An isolated, marginally severe thunderstorm, with wind gusts up to 60 mph, cannot be ruled out along the coast where stronger boundary interactions are expected late this afternoon and evening," the statement reads.