Damage report: Virginia flooding destroyed 33 homes, nearly 100 other buildings affected
130 structures within Buchanan County damaged or destroyed by historic floods
BUCHANAN COUNTY, Va. – Damage assessments continue in Virginia, where flooding swept houses of their foundations and left widespread destruction to a small rural community last week.
The Virginia Department of Emergency Management released its initial findings Monday after surveying Buchanan County, which sustained most of the flooding devastation. According to the VDEM, teams identified 33 properties destroyed, 32 have significant flooding damage, and 28 have minor damage. An additional 36 structures were also affected by the flooding, but the department did not say to what extent.
This initial damage estimate does not include public infrastructure, including roads and bridges, which requires a separate federal review.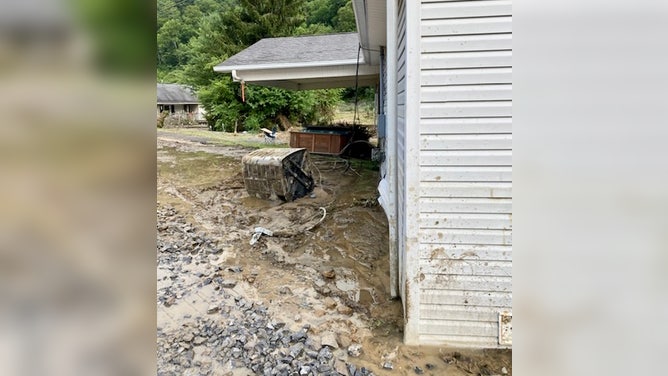 According to the VDEM, this process is the first step in helping Gov.  Glenn Youngkin determine whether the damages could meet the criteria for requesting federal assistance through the Individual Assistance program. 
EVERYONE REPORTED MISSING FOUND ALIVE AFTER FLASH FLOOD DESTROYS OVER 100 HOMES IN RURAL VIRGINIA
Youngkin previously declared a state of emergency to assist with the response and recovery of the severe flooding.
The flooding started in the area around Pilgrims Knob on July 12 when heavy rain dumped about 8 inches, flooding creeks in the Appalachians. Early after the flooding event, local officials estimated about 100 homes were destroyed or damaged. However, all 40 peopled who were feared missing were located after the torrential rainfall.

Youngkin was in Buchanan County on Friday as cleanup efforts were just getting underway and residents attempted to find belongings amidst the muck. 
DO YOU HAVE FLOOD INSURANCE? DO YOU NEED IT?
Many residents are coming to grips with not only lost belongings but financial ruin. Flood insurance is not part of a standard homeowner's policy.