Saving pets saves lives: Why communities include pets in disaster planning and recovery
FEMA, Humane Society and other animal rescue groups collaborate to keep pets with their families and reunite them post-disaster
ORLANDO, Fla. – There has been a cultural shift since Hurricane Katrina that federal disaster response plans include pets, and in recent years many states have also passed laws to include animals large and small during disasters. 
Experts at the 2022 National Hurricane Conference in Orlando described how local and federal emergency managers are working with animal rescue organizations to evacuate families with their pets, shelter them and reunite them.
Panelists at NHC 2022 with FEMA, the Human Society and the American Red Cross said people are less likely to evacuate during a weather emergency if they can't bring their pets. It creates a dangerous situation for first responders if they return home to get their pets after a disaster.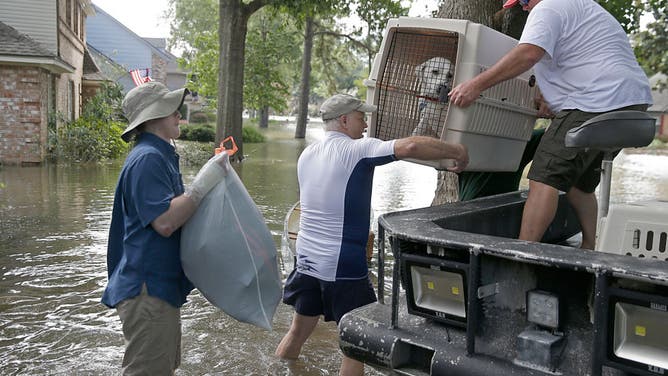 In 2006, President George W. Bush signed the Pets Evacuation and Transportation Standards Act (PETS Act) into law, allowing FEMA to provide rescue, care, and shelter services for pets and animals in an emergency. 
MORE WOMEN ARE LEADING EMERGENCY RESPONSES BUT FEMA SAYS INDUSTRY DIVERSITY HAS 'A LONG WAY TO GO'
FEMA emergency management specialist Sarah Egan said that its essential disaster response includes animals.
During the Camp and Paradise Fires, Egan said emergency managers saw this first hand.
"We could not fully adequately support survivors who had evacuated if we did not take care of the pets left behind the fire lines," Egan said. "Their suffering was becoming increasingly unmanageable the longer that unknown remained for them."
Reuniting pets with their humans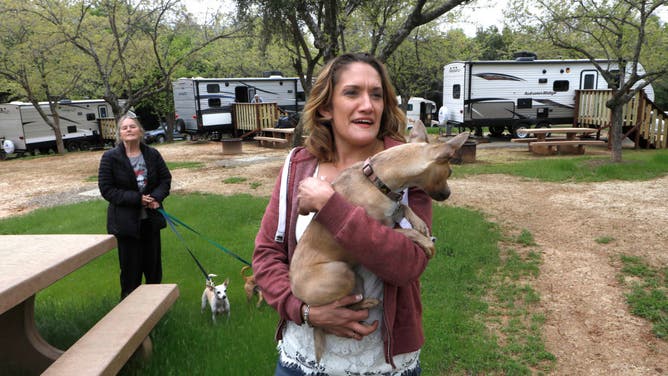 Pets often get separated from their humans in a natural disaster, and one of the biggest goals of animal rescue groups is reuniting all creatures with their families.
Diane Robinson, manager of the Humane Society disaster response program, explained animal groups will help move adoptable animals from shelters in a disaster area to another shelter to make space for disaster victims' pets. This allows the pets a place to stay on a long-term basis, so their humans have an opportunity to find them.
"There is nothing like pulling an animal out of a disaster area and then seeing the looks on people's faces, and the animals, when they're reunited," Robinson said. "It means everything."
COMPLACENCY IS WHAT WORRIES FEDERAL OFFICIALS AS HURRICANE SEASON APPROACHES
One of the biggest challenges after a disaster is keeping pets and owners together. Pet surrenders can happen after someone has lost their home in a tornado or hurricane.
"The ones that have less means to recover, and so now they've lost everything, and that also contributes to what we see with the animals being surrendered," Robinson said. "They're barely hanging on, and now they've lost everything else. So, you know, do you feed your kids or do you feed your dog?"
How to be ready
According to a 2021 study by the ASPCA, 83% of pet owners live in communities that face natural disasters.
With the increasing frequency of wildfires and other natural disasters, pet parents everywhere should have a plan in place if they need to evacuate or if their home is damaged. 
Robinson offered some advice to form that game plan, including knowing what hotels are pet-friendly and talking to family or friends who might be able to host your fur family and you. 
The Humane Society has a list of items that should be in a pet disaster preparedness kit. FEMA has a similar pet hurricane emergency kit guide.
Those items for your pets aren't that different from preparing a human family member, including food and water for five days and medication.
Collaboration is the only way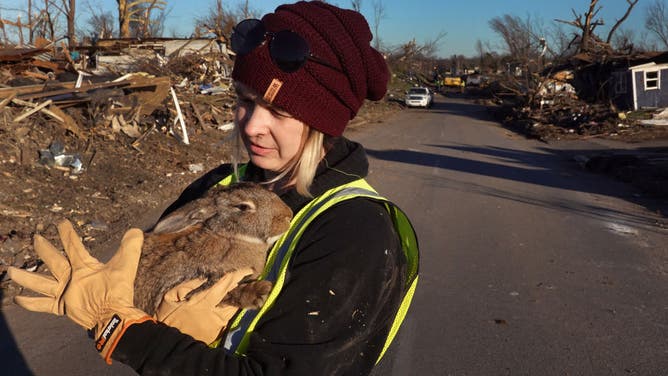 All the experts presenting at NHC conference spoke about the collaboration between agencies and animal rescue groups. 
"No one, no organization, human or animal, was able to do it by themselves," Robinson said. "We all need to work together to be able to have the greatest impact for the families that are suffering from this."
When natural disasters cross jurisdictional boundaries -- as wildfires, tornadoes and hurricanes often do –it takes multiple rescue groups to meet the needs of the animals across many communities.
The 2021 Caldor Fire started in El Dorado County, California but consumed 22,000 acres in one day, prompting evacuations across multiple counties. When 30,000 people from South Lake Tahoe were told to evacuate, those evacuees could only get out by heading east into Nevada, adding another state to the response.
After the EF-4 tornado in Mayfield, Kentucky, the Humane Society Animal Rescue and Response Team worked with the Tennessee Response 1 team because many animal rescues were happening in collapsed or confined spaces. 
Robinson stressed that it's crucial to leave these rescues within debris or destroyed structures to certified professionals. Well-meaning people who want to help can create a dangerous situation for themselves and first responders if they go into a destroyed home or structure.