See the rare tornado that ripped through French countryside
France's weather service reported that this was a rare event because the entire country only sees a few dozen tornadoes each year.
ERNEE, France – Drivers on a highway in Ernee, France, drove white-knuckled after they looked beyond the trees to see an apparent tornado whirling near the highway a little after 5:30 in the evening on Sunday. 
Only a few dozen tornadoes form in the entire country every year, according to Meteo-France. So, drivers were understandably shocked by the rare event. Most of the tornadoes are small, brief and low-intensity in France.
The tornado tore through several cattle barns and sheds in northwest France. Some social media posts show pictures of barns without roofs and others collapsed. One post reported several injured livestock.
Wind and trees tore down power lines. Flashing emergency lights surrounded the damaged and destroyed buildings. Fire officials report that no people were injured, but rescue crews were on the scene.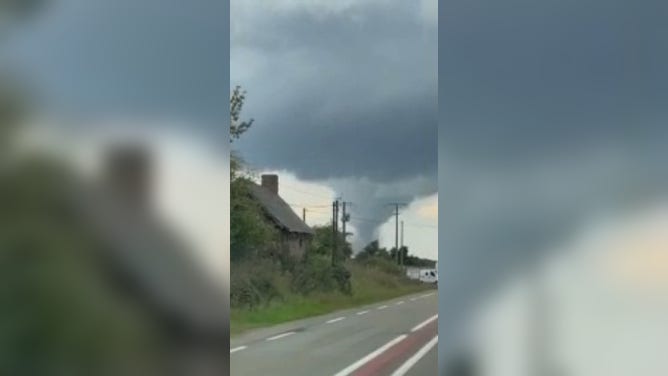 On Sunday, the threat of violent weather forced Meteo-France to issue storm alerts. Over 30 departments were placed on orange alert.
Forensic meteorologists will confirm whether this was a tornado. 
Europe's tornado history
Since 1800, mainland France has only seen about 40 deadly tornadoes, according to Meteo-France. The deadliest tornado in Europe was in France. It killed 70 people in 1845.
HOW LONG DO TORNADOES LAST, AND HOW DO THEY FORM?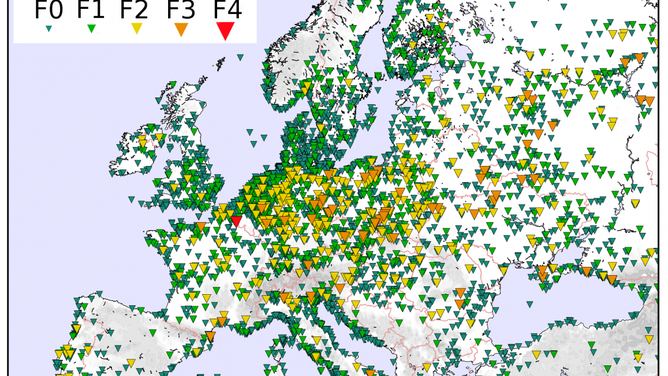 Europe sees about 300 to 400 tornadoes a year, according to the European Severe Storms Laboratory. A European Severe Storms Laboratory researcher published a study logging tornadoes from 2000 to 2013. He found the highest densities of twisters in Germany, the Netherlands, Belgium, France, Austria, the Czech Republic and Poland. 
The U.S. leads the world for the number of tornadoes per year in a country. The states see about 1,250 tornadoes a year, according to NOAA.