Nashville's Tornado Warning system now more precise after $2 million upgrade
The National Weather Service has recorded 35 tornadoes so far in Tennessee in 2021 -- the average is 30 a year
NASHVILLE, Tenn. – December is the fourth-busiest month for tornadoes. Due to the increased precautionary needs throughout the year, cities like Nashville are looking at what warning systems they have in place. 
The Southeast is no stranger to severe storms. They have seen tornadoes often in the last 70 years. The strongest was an EF-5 on December 5, 1953, in Warren County, Mississippi, and on December 18, 1957, in Perry County, Illinois.
In Nashville, tornado warning systems have been upgraded. On average, the state of Tennessee can see 30 tornadoes a year. According to the National Weather Service, this year alone, there have been 35 tornadoes.
A secondary tornado season is underway now, and the highest risk areas are farther south. In the colder months, the warm air and moisture from the Gulf of Mexico do not get as far north with colder Canadian and arctic air and the jet stream farther south.
Devastating tornadoes of Tennessee's past
"Weather is coming our way more frequently, so we have shifted our planning and the way we respond to help streamline our efforts to help those in need," Nashville's Office of Emergency Management District Chief Jay Servais said.
From late in the day on March 2 into the early morning hours on March 3, several supercell thunderstorms spawned numerous tornadoes. They dropped large hail up to the size of baseballs in some areas across southeast Missouri, southern Kentucky, Tennessee, and central Alabama. 
The worst of these tornadoes touched down across Middle Tennessee during the early morning hours of March 3, 2020, resulting in widespread damage, hundreds of injuries and 25 fatalities. Ten tornadoes were reported across the state, ripping through over 200 miles. Sixty miles of metro Nashville were destroyed, causing $1.1 billion in damage.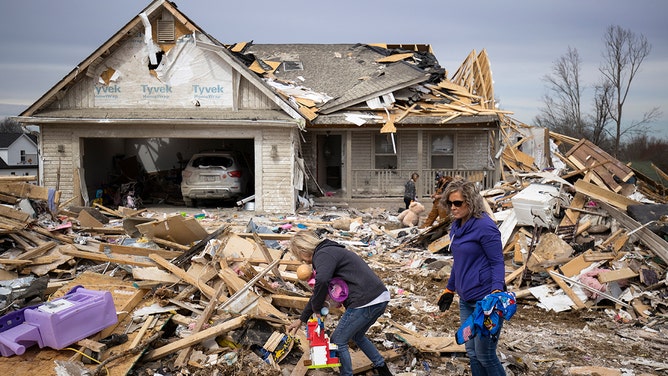 These tornadoes were the worst seen in Tennessee since the devastating tornadoes of April 27, 2011, across East Tennessee and the Super Tuesday tornadoes on February 5-6, 2008.
Matthew Challett nearly lost his business in that tornado.
"I don't know why it still makes me so emotional. It's been a year and a half," said Challett, who can still picture that night. 
Challett turned on the news, heard about a funnel cloud over east Nashville, and headed to his safe space.
"So my wife went to grab the kids, and, of course, I go get the important insurance documents because we don't know what's going to happen," Challett said. "We all go down to the basement. It was loud, and it passes by. Of course, you're scared. We're all scared."
A more efficient polygon system
Tennessee is number one for nighttime tornadoes, with 47% of their tornadoes occurring at night, according to Krissy Hurley, the chief warning coordination meteorologist for the National Weather Service in Nashville.
"So that's why it's even more important that we have ways that will wake us up, so we can take cover when the tornado strikes," Hurley said.
Hurley leads the charge to track potential storms across the state and issue those critical warnings.
"It's a process that takes 20 to 30 seconds for us once we made the decision that, 'Hey, we need a tornado warning,'" Hurley said. "In 20 to 30 seconds, we can get that out and that process where the NOAA weather radio goes off, phones go off."
And so do the tornado sirens, which are triggered by what Nashville city leaders call an outdoor warning system. It's designed to sound the alarm when emergency officials know a tornado or another dangerous event is imminent.
"You have to be on your toes. You have to be prepared," Hurley said. "Things change very rapidly, and you know March 2nd and 3rd, it was no different. Things happened very quickly, very rapidly. The storms are moving 60 to 70 mph. And with those types of situations develop, you've got to be on your game to get those warnings out ahead of time."
Today, more than 100 sirens stand tall across the county with an efficient polygon system that'll alert those in areas under a confirmed tornado warning to take cover.
"We don't want anybody to say, 'We never got a warning. We didn't know it was going to happen,'" Hurley said. "We want to equip people with actionable things to do when severe weather strikes."
The city's outdoor warning system just got a major $2 million upgrade making it more precise, efficient and will automatically go off when those warnings are issued. And you can hear those sirens as far as a half-mile away.
But with this increased potential for threats, emergency officials urge you to have more than one way to get the message and know when to find your safe space.