Drone video captures devastating scale of damage across northern Italy from deadly flooding
Thirteen people have died, and thousands have been evacuated from their homes after torrential rain inundated the northern regions of Italy, causing severe flooding and landslides.
EMILIA-ROMAGNA, Italy – Rescue operations continue Friday after torrential rain wreaked mayhem in the northern regions of Italy this week, forcing thousands to leave their flooded homes.
The death toll from the natural disaster stands at 13 after the bodies of two more people were found Thursday. One of the dead was swept away from her home and washed up on a beach more than 12 miles away.
DEADLY FLOODING IN ITALY SWALLOWS STREETS, FIELDS AND HOMES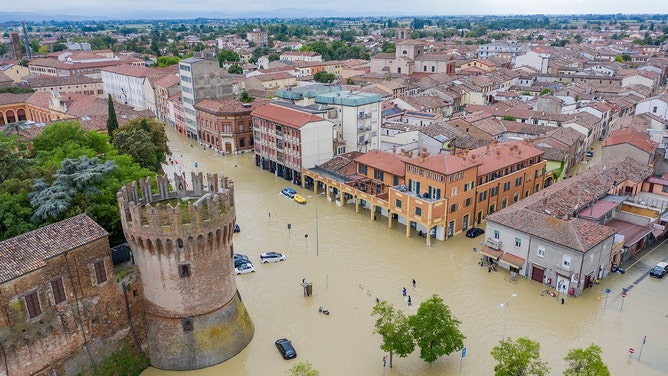 The Vigili del Fuoco, Italy's agency for fire and rescue service, said Thursday that they have carried out more than 1,500 rescues and evacuations so far: 690 in Bologna, 320 in Ravenna, 310 in Forlì Cesena and 220 in Rimini.
The floods are the latest in a series of extreme weather events that have slammed Italy over the past year, as once exceptional disasters become a regular part of life, Reuters reports.
"We are facing a new earthquake," Emilia-Romagna President Stefano Bonaccini told reporters, recalling the seismic events that struck the region in 2012, destroying thousands of homes.
During the night Thursday in the province of Ravenna, authorities said several waterways overflowed affecting the municipalities of Conselice, where the firefighters were involved in the evacuation of 40 elderly people from a nursing home.
The most-impacted area devastated by floodwater is centered on the eastern side of the Emilia-Romagna region, known as Romagna.
More than 10,000 people have been evacuated as rivers of mud tore through towns. People who stayed behind were left without gas, electricity, and food. 
'THIS IS THE WORST FLOODING IN RECENT MEMORY': SIX MONTHS WORTH OF RAIN FALLS IN ITALY IN ONE DAY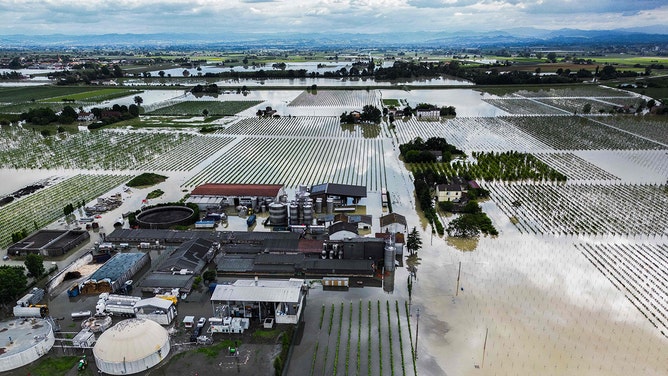 In Romagna, up to 300 landslides, 23 overflowing rivers, some 400 roads damaged or destroyed, and 42 flooded municipalities have been reported, according to Reuters.
Drone footage shot Thursday by the news agency shows all the ruined farms left behind by the floods in Romagna.
In the town of Lugo, farmers could be seen gathering their pigs to transport them away from their flooded enclosure.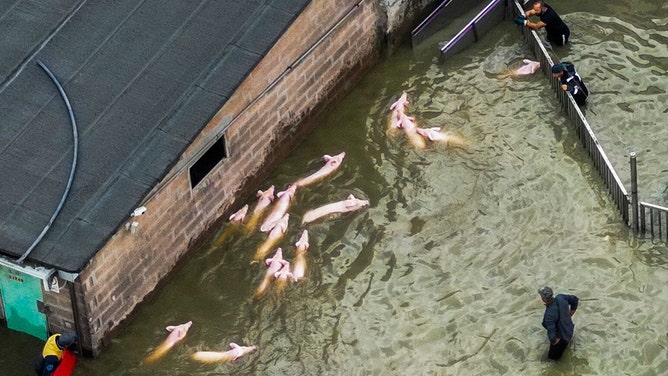 Formula 1's Emilia-Romagna Grand Prix cancelled
The flooding even canceled the scheduled Formula 1's Emilia-Romagna Grand Prix as garage areas on the track were inundated with water.
DEVASTATING FLOODING STRIKES NORTHERN ITALY, THOUSANDS EVACUATED
"After a horrible night, the town is heavily impacted: dust, mud and the smell of gasoline everywhere," said Yuki Tsunoda, one of the many drivers who stuck around to help clean up. 
Tsunoda took to social media asking fans to help out as he describes the scene he witnessed.
"People are struggling to find food and places to stay," Tsunoda said. "Please, anything you can do to help is appreciated."
The government has promised an extra 20 million euros ($22 million USD) in emergency aid, Reuters reports. This is on top of the 10 million euros allocated in response to previous floods two weeks ago, which killed at least two people.