What were the impacts in Los Angeles County the last time a Blizzard Warning was issued in 1989?
A dynamic and unusual weather period is expected in California starting Thursday and lasting into the weekend. The first Blizzard warning since 1989 has been issued for the mountains of Los Angeles and Ventura counties where upwards of 5 feet of snow is expected.
LOS ANGELES – Remember that time snow fell from the beaches of Malibu to the desert canyons of Palm Springs and up to the ski resorts of Big Bear?
The winter storm that blew through California on Feb. 4, 1989, was the fifth major snowstorm to hit the Los Angeles area since 1932 during the Great Depression. More than 30 years have passed since the mountains of Los Angeles and Ventura counties were under a Blizzard Warning.
That changed Wednesday when the National Weather Service in Los Angeles issued a Blizzard Warning for those mountainous regions as a storm approaches the region. 
According to the FOX Forecast Center, as much as 5 feet of snow and wind gusts to 75 mph are expected in those mountains as well as across Santa Barbara and Fresno counties through Saturday afternoon.
PORTLAND SEES SNOWIEST DAY SINCE WORLD WAR II AS RARE BLIZZARD WARNING ISSUED FOR LOS ANGELES-AREA MOUNTAINS
Here's a look at the winter weather alerts posted through Saturday, Feb. 25, 2023.
(FOX Weather)
---
The highest elevations could see up to 7 feet of snow. This dangerous combination of heavy snow and high winds will be blinding and is expected to snarl travel through the weekend.
"We are still on track for our DANGEROUS winter storm," the National Weather Service in Los Angeles tweeted Wednesday evening. "Expect blizzard conditions in the mountains with FEET of snowfall. A few inches of rain are expected in lower elevations. Be weather ready!"
Feb. 4, 1989: An impactful California winter storm
The NWS said this will be an impactful storm with widespread road closures possibly due to snow. Will it be as impactful as the historic storm in 1989? Time will tell, but here is a closer look at how the storm 30 years ago unfolded.
Archive video showed cars sliding in the snow and creating huge traffic jams.
According to the Los Angeles Times, the snowfall spanned from the oceanfront hillsides of Malibu into the desert canyons at Palm Springs. Most of the snow did not last, but 5 inches piled up in the Santa Clarita Valley, which caused 20,000 students to miss school.
Over a foot of snow piled up in the mountain areas around Los Angeles. That's well below the 5 feet expected during this week's storm.
Storm data reports from the Department of Commerce noted at least 10 deaths were reported from the historic 1989 storm. At least five weather-related traffic fatalities were recorded in Los Angeles and Orange counties alone.
The ice and wind also led to a 20-car pileup in the Cajon Pass and forced a 50-mile closure of Interstate 5. Ski resorts in the San Bernardino Mountains had to close after the California Highway Patrol reported blizzard conditions at Big Bear Lake.
Communities like Thousand Oaks, Porter Ranch, Westlake and the West Hills – to name a few – reported 1-2 inches of snow. Valencia reported as much as 3 inches of snowfall. These towns usually go years without receiving any snow.
Record low maximums and minimums were set in a handful of places. NOAA said the February freeze of 1989 produced minimum temperatures in the low to mid-20s with isolated upper teens. It's a range below the critical level for most citrus.
Strawberry farmers in Los Angeles County estimated $250,000 in crop loss due to the freezing weather.
SNOW IN AMERICA'S 'HEATLAND': THE ZANY TIMES IT SNOWED IN SOME OF THE COUNTRY'S WARMEST PLACES
The day downtown Los Angeles saw 2 inches of snow
It's been nearly a century since downtown Los Angeles picked up 2 inches of snow on Jan. 15, 1932. 
Photos show the main area covered in white, including Hollywood. Even the beaches of Santa Monica were coated in snow, according to the National Weather Service. Over a foot of snow fell in the mountains surrounding the city.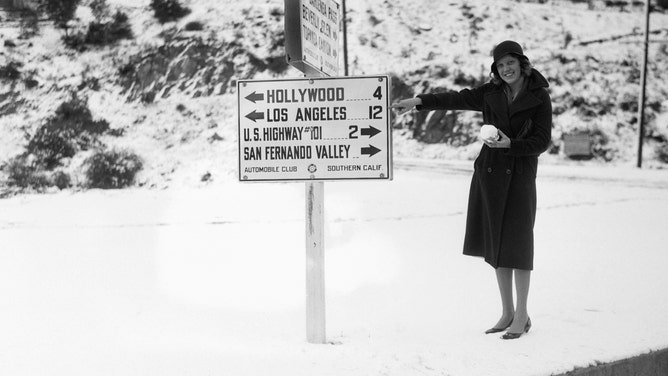 Overall, downtown Los Angeles has recorded four days with measurable snow, though the other three were small fractions of an inch and none since 1954.