High winds, fire threat likely to force CA power shutoffs
Winds in excess of 35 miles per hour could force California's largest utility provider to shut off electricity to thousands of homes and businesses.
Strong offshore winds in combination with dry conditions have prompted the National Weather Service to issue Fire Weather Watches for many areas in Central and Northern California through Tuesday.
A low-pressure system will move towards the Rocky Mountain West, and behind the system, gusty winds and critical fire weather conditions are expected to develop.
Meteorologists expect wind gusts of 30-40 mph, with the potential of some gusts reaching over 50 mph. 

High wind watches have been issued from areas in California to Arizona due to the threat due to the threat of the gusty winds.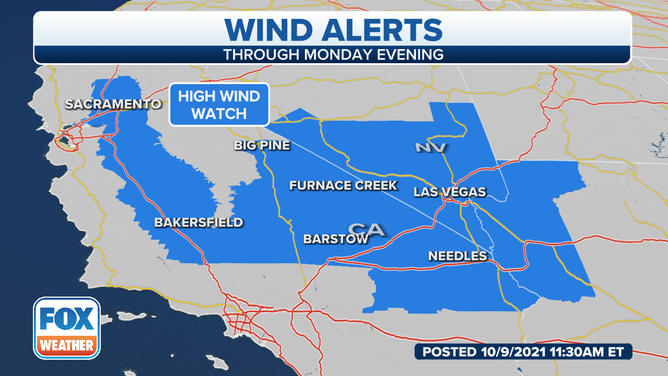 In addition to the wind threat, daytime humidity values could drop into the 10-20% range during the early part of the week.
The combination of the low humidity, dry brush and gusty winds could help increase the erratic behavior of fires.
California's largest electric provider warned around 44,000 customers that the expected strong winds could force them to shut off power Monday and Tuesday.
PG&E says the potential power outages are part of the Public Safety Power Shutoff program (PSPS) that is designed to cut down on the risk of electrical equipment starting fires.
The dry weather pattern Californians are experiencing is nothing new. Many areas, especially in the northern part of the state, have dealt with drought conditions since 2020.
The NWS warns residents that outdoor burning is not recommended during favorable fire conditions.