Spain's drought-plagued olive oil crops seen from space
Spain is considered the world's largest producer of olive oil and the biggest driver of the global market. The global olive oil market was valued at more than $14 billion in 2022.
MADRID – New satellite imagery from NASA shows the impacts a significant drought has had on the vegetation in one of the leading olive oil-producing regions in the world.
The high-tech imagery released by the agency showed where green vegetation has turned brown in just about a year's time.
According to Copernicus Climate Change Services, soil moisture across all of Europe in 2022 was at its second lowest in the last five decades and coinciding with the lack of rainfall was unseasonable heat.
The Andalusia region in southern Spain is a key area impacted by the drought. Industry experts consider the southern parts of the country to be one of the leading olive oil-producing regions in the world.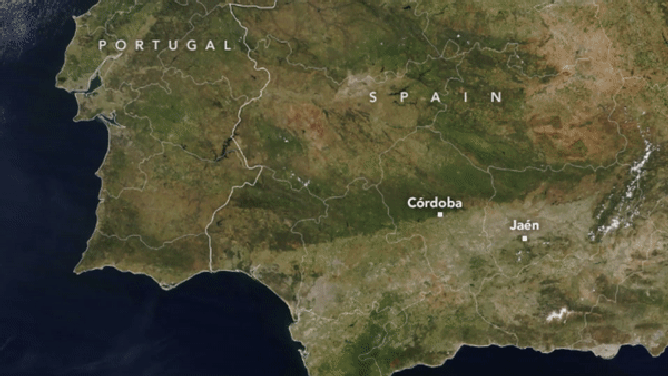 OLIVE OIL PRICES CLIMBING AFTER HEAT, DROUGHT IN EUROPE LEADS TO POOR HARVEST, SHORTAGE

According to estimates, the Andalusia region produces around a quarter of the world's supply.
It is in this region where NASA reported, as of mid-May, observation sites had only seen about 30 percent of their usual rainfall with temperatures that have already topped 100 degrees Fahrenheit this year.
"These factors have impacted global olive oil pricing and supply and will continue to for the coming months. However, we're pleased that it rained some this week in Andalusia, a major growing region of Spain, and with several months before the harvest, the full impact of the weather on this year's crop is yet unknown," Joseph R. Profaci, executive director of the North American Olive Oil Association, stated. "There are, of course, many other growing regions around the world, some of which are predicting strong harvests, but we're continuing to monitor the situation in Spain closely, as it is the main driver of the global olive oil market."
The impacts on the industry have caused consumer prices to rise 30 to 50 percent in some regions, according to recent reports.
WHAT SEASON DO FRUITS AND VEGETABLES GROW IN?
Despite the decrease in production, the NAOOA said there's been no impact on the supply of oil for U.S. consumers, and sales have remained consistent.
Typical olive harvesting season in the Mediterranean climate is in the fall, which means the summer weather will be crucial in determining how successful the crop will be.