'Ain't nobody here but us chickens': Flooding turns egg farm into island
Flooding not only threatens homes but livestock as well across the Northern Plains and central Canada.
ROSENORT, Manitoba – Near record flooding turned the Siemens Farms into an island. The property, usually surrounded by farms, has been cut off by water. 
Roads getting to and from the barns are under a foot of water. Last week, 50 mph winds whipped up waves that crashed against the fenders of the farm's truck.
"We haven't had flooding like this in years," said Harley Siemens, who owns the free-run egg farm with his father. "The only times we lost road access was 1979, 1997, and 2009."
Record April snow
Record snowfall in April started melting and overwhelmed creeks, rivers and streams. Environment Canada reported that areas in Manitoba received up to 500% of their average snowfall.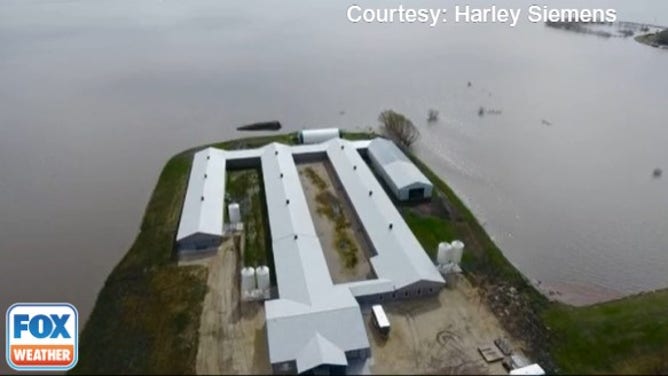 Just over the Canadian border, North Dakota and Minnesota received a historic 3-4 feet of snow in mid-April. That broke a record that stood for a century. Winds of 60 mph turned the record snow into a blizzard. 
Blinding snow closed highways and piled up in 2-story snowdrifts and threatened farm animals.
'ALL WE CAN DO IS PRAY': PRIZED HORSES BURIED IN SNOW DURING NORTH DAKOTA'S HISTORIC BLIZZARD 

You can see from aerial pictures taken last June that the barn and homestead are usually surrounded by green fields. Now, the barn, with 38,000 pullets and egg-laying chickens, is an island.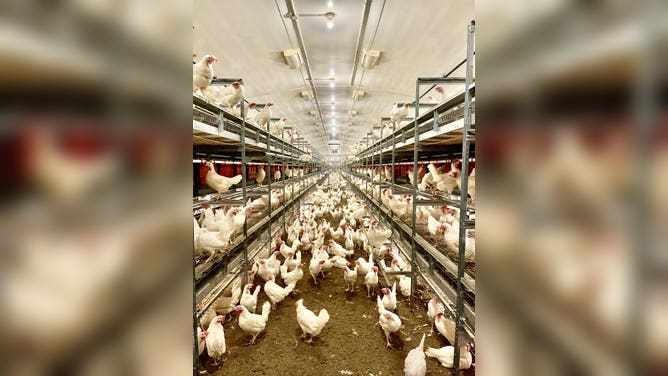 The Siemens knew the area was at risk of flooding and built a ring dike around the farm. In 2007, they rebuilt the barns on higher ground and planned ahead for this disaster.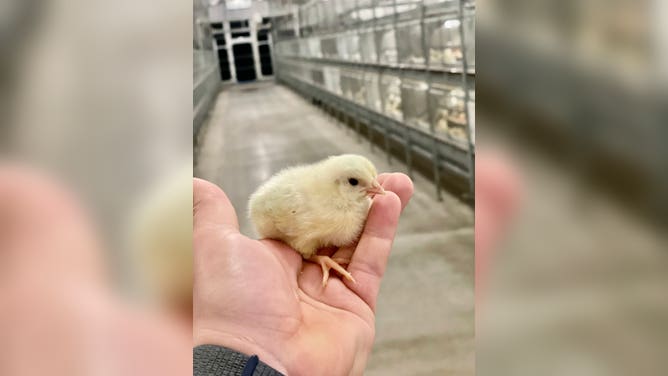 "We oversized our feed storage on our site to hold up to a month worth of feed for the hens and also oversized the egg cooler to hold the daily egg production for up to three weeks," said Siemens explaining that the animals are dry and have food, water and heat. "So far we are able to guide [the egg pick up] truck in through floodwaters through our marked road."
"My Dad and our employee have to travel through the water every day to get to work," said Siemens. "We have a boat ready if necessary but so far we can still take our large farm truck with high clearance through."
Siemens' wife and three children (under the age of five) evacuated their farmhouse on May 6th to head for drier ground.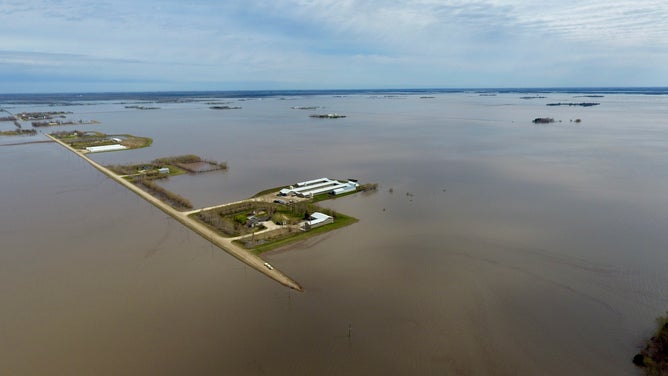 "In 1997, during the worst flood, 'Flood of the Century,' we had we lost road access for just under 1 month," said Siemens of the most recent 100-year-flood (a flood with a 1% chance of occurring). "Since then, many improvements in roads and waterways have been made, so we predict, at worst, we lose road access for 2-3 weeks." 
The 1997 flood caused more than $3 billion in damage to the Northern Plains.  Areas along the Red River received 200-300% of average snowfall for that winter and spring season.
Northern Plains flooding
This year, North Dakota's Governor already issued an emergency declaration for the Sheyenne and Red River basins last month due to flooding. 
SNOWMELT, HEAVY RAINFALL CAUSE MAJOR FLOODING IN NORTHERN PLAINS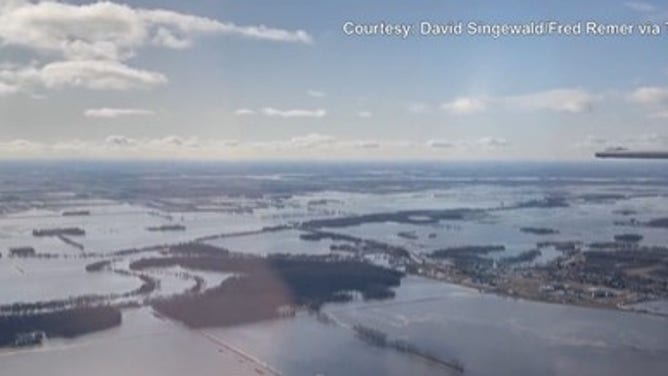 Flooding plagues Minnesota this year as well.
"That's why I signed an Executive Order authorizing relief for livestock farmers to help keep their animals safe and recover as quickly as possible, so they can continue to feed Minnesota and the world," tweeted the Minnesota Governor Tim Walz.
Cabins around Crane Lake in northeastern Minnesota, near the border, are submerged along with parking lots.
Siemens said that the water retreated just a bit over the past day.