Colorado couple finds rings while sifting through ashes of home destroyed by wildfire
Michael Parks and Kim Reiss can affirm that their wedding rings are now an eternal symbol of rebuilding and strength.
LOUISVILLE, Colo. – When you lose everything, having that one thing from the past to hold onto can be life-changing.
Michael Parks and Kim Reiss can affirm that their wedding rings are now an eternal symbol of rebuilding and strength.
On Dec. 30, 2021, fires ripped through entire neighborhoods outside Boulder, Colorado, destroying nearly a thousand homes. 
BOULDER FIRE FUELED BY 100 MPH WINDS A FIREFIGHTER'S WORST FEARS 
The couple had minutes to get out with their dog, the pictures on the wall, and only the clothes they were wearing. Unfortunately, they lost everything, including their wedding rings.
The two were months away from their wedding day when the Marshall Fire swept through. They lived near Harper Lake in Louisville with Parks' mother.
"I basically just grabbed the photo albums, threw them in the car, and drove," Parks told FOX 31 in Denver. 
Officials said over 6,000 acres burned in the fires, all within just 24 hours.
When the soon-to-be newlyweds were allowed back into their neighborhood, the emotional healing of accepting what was lost was about to begin. Greeted by slabs hidden beneath ash and soot for city blocks, smoke was still rising from their home.
"I just fell to my knees," Reiss said. "It was pretty surreal."
COLORADO RESIDENT AFTER FIRE: MY NEIGHBORHOOD 'NOT STANDING ANYMORE'
Along with most in their neighborhood, they figured the fire consumed everything. They were confident their wedding rings, which had been sitting on a bedside table in preparation for the big day, were gone.
But that didn't stop them from looking for their symbol of eternal love. 
Their search began with some shovels, a hazmat suit and a sifter left at their property by a humanitarian group.
"It was eerie how close everything was to its old position," Parks said. "Everything just kind of fell down where it was, so we had an idea where to dig for the wedding band."
PHOTOS: CHARRED AFTERMATH AS FIRES SWEEP THROUGH COLORADO NEIGHBORHOODS
After six buckets of ash and soot, they finally found it. It's a moment the couple will never forget.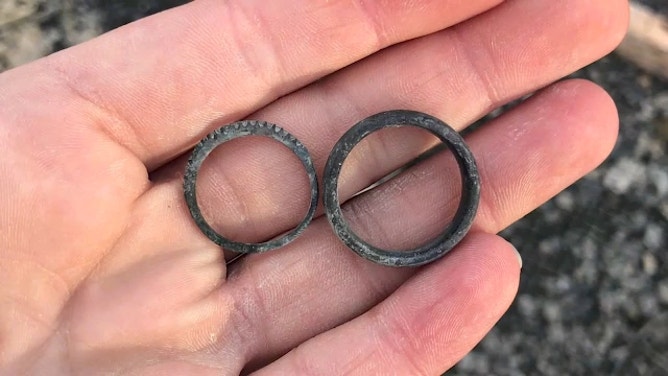 "It was pretty crazy. We were hugging and just so excited," Reiss said. 
As the smiles eventually outweighed the tears, the couple will now send their rings off to be professionally cleaned before the official exchange on their May 28 wedding day. 
"Hopefully, 30, 40 years from now, we can go, 'OK, this was the start, and we rebuilt our lives together from here,'" Parks said.
Family, friends and strangers have donated more than $43,000 to help the displaced couple rebuild their lives from scratch. Click here to learn more.