Satellites capture imagery of deadly wildfires raging across Chile
Meteorological summer in Chile runs from December through February. Many regions of the country are experiencing drought conditions, and some have seen temperatures rise to 100 degrees. Officials report that the fires have already killed at least 23 people.
SANTIAGO – A series of deadly wildfires burning in central and southern Chile have claimed the lives of nearly two dozen people and forced authorities to declare catastrophes during what is considered to be an unusually warm and dry summer.
The country's interior minister reported that over 230 fires have already scorched 99,000 acres.
Satellite imagery captured smoke plumes rising from heat signatures with clouds of ash and smoke pushed out over the southeast Pacific Ocean due to prevailing winds.
TRANSITION INTO EL NINO COULD LEAD TO RECORD HEAT AROUND GLOBE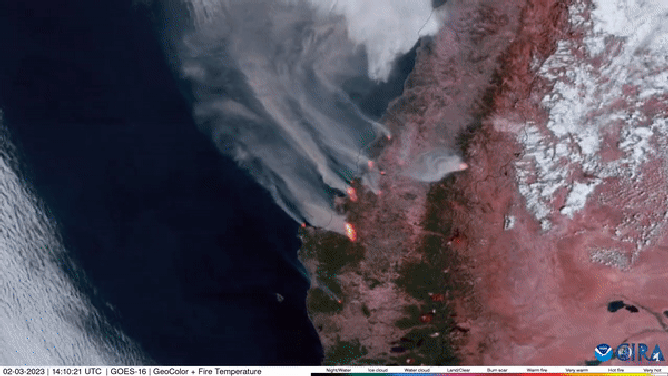 The Chilean government reported receiving international support from Argentina, Brazil, Ecuador, Spain and the United States.
Regions of the country are under agriculture emergencies and have faced years of rainfall deficits during the ongoing drought.
Forecast models showed the continued threat of temperatures of near or over 100 degrees and strong winds, south of Chile's capital of Santiago.
FLORIDA EXPECTED TO BE HOTBED FOR WILDFIRE IN EARLY 2023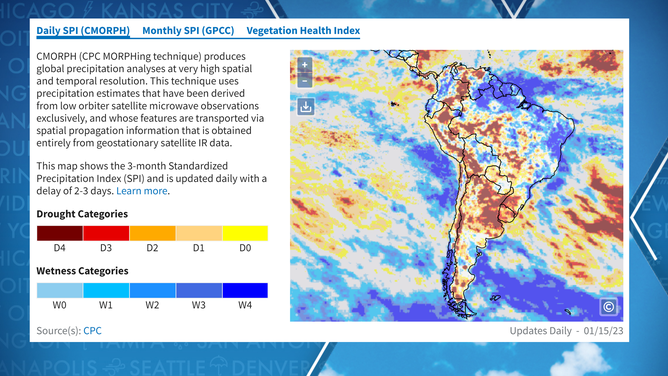 The South American country of nearly 20 million residents is no stranger to the threat posed from wildfires.
A series of fires in 2017 was dubbed by officials to be the worst in the country's history. More than 1.4 million acres burned, and thousands were forced from their homes due to strong winds fanning the flames.
A Montana State University-led research team devoted to determining the causes of increased fire risks in south-central Chile pointed the blame at the region's changing vegetation.
"Chile replaced more heterogenous, less flammable native forests with structurally homogenous, flammable exotic forest plantations at a time when the climate is becoming warmer and drier," Dave McWethy, an assistant professor at MSU's Department of Earth Sciences, said after the study's publication. "This situation will likely facilitate future fires to spread more easily and promote more large fires into the future."