Carnival passenger documents 24-hour nightmare as storm pounded cruise ship off Southeast coast
Daniel Taylor, of Albemarle, North Carolina, was one of the passengers aboard the ship and reported water damage and communication outages, as well as high waves that battered the vessel. He spoke to FOX Weather after documenting his experience in a timeline of events.
CHARLESTON, S.C. – A coastal storm generated a lot of drama on the high seas over the weekend for passengers aboard a Carnival cruise ship.
The storm churned up large waves that rocked Carnival Sunshine and its passengers, making for a rough return to port and delaying its return from the Bahamas over the Memorial Day weekend.
National Weather Service meteorologists were expecting waves upwards of 15 feet Friday, but some computer models indicated wave heights could reach 20 feet in the storm system.
Daniel Taylor, of Albemarle, North Carolina, was one of the passengers aboard the ship and reported water damage and communication outages, as well as high waves that battered the vessel. He spoke to FOX Weather after documenting his experience in a timeline of events.
CRUISE SHIP CARNIVAL SUNSHINE POUNDED BY LARGE WAVES DURING COASTAL STORM NEAR CHARLESTON, SOUTH CAROLINA

Friday's cruise chaos
Taylor said the weather was great prior to the large waves that were churned up by a powerful storm off the Southeast coast.
"We had a few rain patches here and there, but not enough to affect a vacation," Taylor said. "It was nice and warm out each day."
By 4 p.m. Friday, the weather started looking bad in the distance. Taylor said he remembers that was about when they started to hit rough seas.
"It was only 45 minutes later that Captain Contarino came over the intercom system to let everyone know that due to adverse weather conditions, we may arrive later in port than scheduled," Taylor said. "He also advised that the staff would do everything they could to minimize any discomfort."
After the captain made his 4:45 p.m. announcement, Taylor said "vomit bags" were put out at all the elevators. What unfolded over the next 24 hours was described by Taylor as a nightmare on the open sea.
7 p.m.
Taylor said the ship started hitting much larger swells. He said:
"I was in the Liquid Lounge watching a show, and the sound of the waves hitting the ship could be heard over the music. The stage lights were shaking, disco ball swinging back and forth, and the LED wall on the stage was moving side to side. I left the show to go look outside. I went out on Deck 6 forward to take some videos and photos at the front of the ship. The storm we were running into looked worse and worse by the minute as the skies gradually got darker."
8 p.m.
Staff started closing off public decks. Taylor said: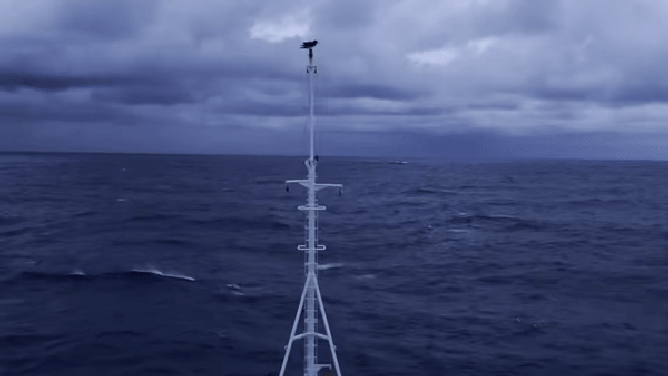 "The open lido deck was being cleared for safety, and I was asked to leave the front deck."
10 p.m.
Taylor said he visited the buffet area to grab a sandwich from the deli. He said:
"We hit a very large swell which resulted in plates stacked up falling over and cups toppling over at the drink station."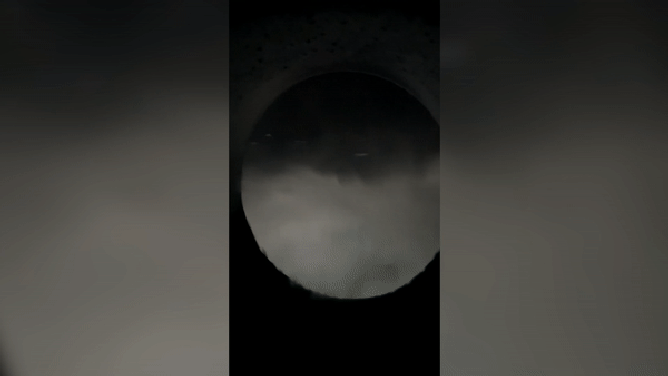 11:15 p.m.
Taylor said he was back in his room. He said: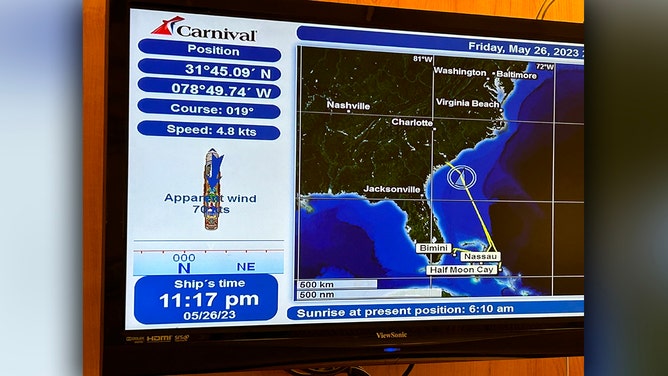 "The cruise info screen showed we had slowed down to almost 5kts (5.8 mph), while winds were hitting us at 70kts (80 mph). It was at this point I noticed the captain had turned the ship from going northwest into Charleston to now going north/northeast directly toward where the eye of this storm system was. It was also around this time that water was hitting my porthole window on Deck 2."
11:45 p.m.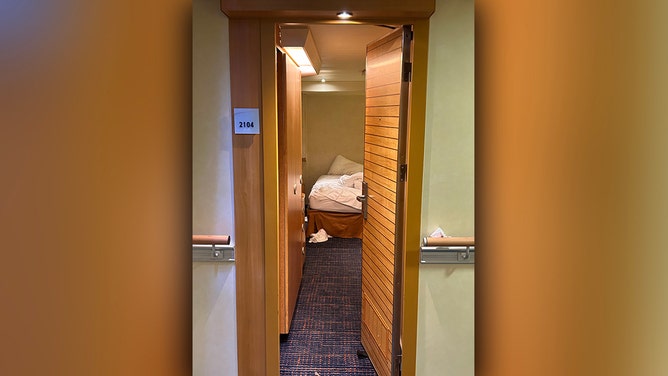 Taylor said: "I heard the girls in the cabin across from me in the hallway, so I opened my door to find that their room was taking on water. The upper Pullman bed had water pouring in, wetting the bed they would be sleeping on, dripping all over the nightstand beside the bed and soaking the carpet."
Saturday
2 a.m.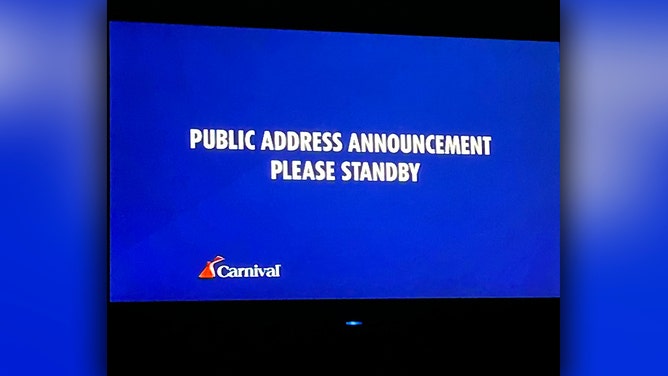 Taylor said: "They took our cruise information screen off the TV and replaced with an 'address announcement standby' screen, which remained until 7:30 a.m. when the announcement was made. Around this time was also when our internet stopped working. This left us blind to knowing anything about where we were, where we were going, how fast we were traveling, and wind speeds for over five hours."
Taylor said there was no communication from the captain or cruise director from the 4:45 p.m. announcement on Friday until the 7:30 a.m. Saturday announcement was made by the cruise director.
He said: "This announcement was telling us that we were outside Charleston harbor and our pilot has been delayed due to weather conditions."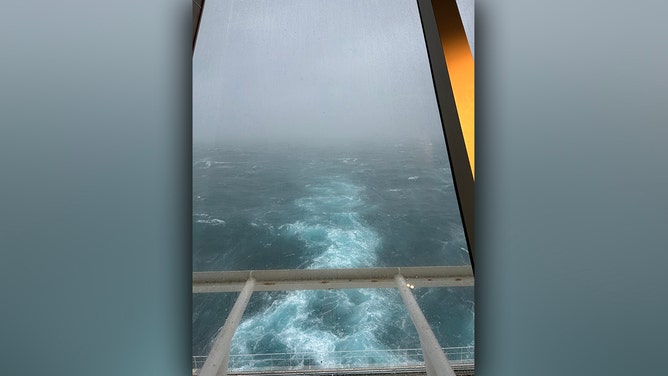 8:45 a.m.
Taylor said: "The captain came on the intercom to tell us that at that time, we were unable to safely proceed into port - that fleet operations was monitoring the situation and would keep us updated."
9:45 a.m.
Taylor said: "Update from cruise director, announced activities they were coming up with to try to keep guests entertained while we were waiting out at sea."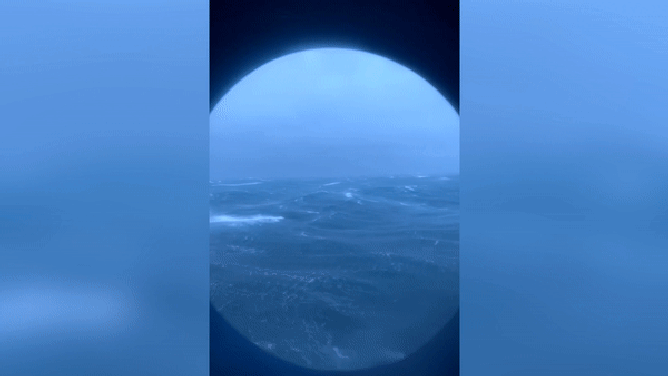 11:21 a.m.
Taylor said: "An announcement was made about there being a problem with the satellites, which affected Wi-Fi. This entire time, we weren't able to use our Hub App for chatting to other shipmates or use the internet/other apps to communicate with anyone."
2:10 p.m.
Taylor said: "Announcement from the captain that we were heading to the pilot station in hopes of being able to sail into Charleston."
He said the ship arrived at the port about 5:30 p.m. and started disembarking 30 minutes later.
Taylor said: "A little after 7 p.m., I was finally able to get off the ship and into my car by 8 p.m. to drive home four hours to Albemarle, North Carolina."
He said this was his third time aboard Sunshine out of Charleston and his fourth with the cruise line.
What Carnival officials say
Matt Lupoli, senior manager of public relations for Carnival Cruise Line, released the following statement Tuesday:
"The ship's crew followed our protocols for rough weather and thankfully, no one was seriously injured. Our medical staff helped a small number of guests and crew members who needed minor assistance.
"The ship's captain made several announcements about the weather and the delay it caused in returning to Charleston, asking guests to use extra precaution while walking around the ship. Some of the worst weather occurred in the overnight hours when announcements are not typically made, but guests and crew were safe. The ship's officers worked through the night to minimize discomfort as much as possible from the added movement caused by the rough ocean. And we have heard from many guests who were very complimentary of the crew and how they managed the situation.
"The weather was unexpectedly strong, causing conditions that were rougher than forecasted. Given the circumstances as they were, the ship's officers and our Fleet Operations Center team using real time meteorology data coordinated to keep the ship in its safest location. Attempting to sail out of the large front could have been dangerous. The ship proceeded to the port as soon as the weather began to clear."