Even cacti in Desert Southwest are having a tough time in historic heat
According to the National Park Service, saguaro cactus is iconic to the Sonoran Desert landscape. The plants are typically the tallest vegetation in the desert, growing to more than 30 feet. The NPS estimates the average life span of the cactus is 150 years.
PHOENIX – A streak of record temperatures across the Desert Southwest and one of the slowest starts to the monsoon season in recent memory is likely playing a role in the demise of some cacti in the region, according to experts at Phoenix's Desert Botanical Garden.
The saguaro cactus is iconic to the Sonoran Desert landscape and, according to the National Park Service, can grow to over 30 feet tall and have an average lifespan of 150 years.
Recently, plant experts have seen an increase in reports of cacti that are falling, losing arms and changing shape, leading some to suggest that climate change is behind it.
"Everybody always has thought that cacti are perfectly adapted to heat and drought," said Tania Hernandez, a cactus scientist at the Desert Botanical Garden. "For that reason, nobody has studied how more extreme temperatures than these can affect them."
WHAT SEASON DO FRUITS AND VEGETABLES GROW IN?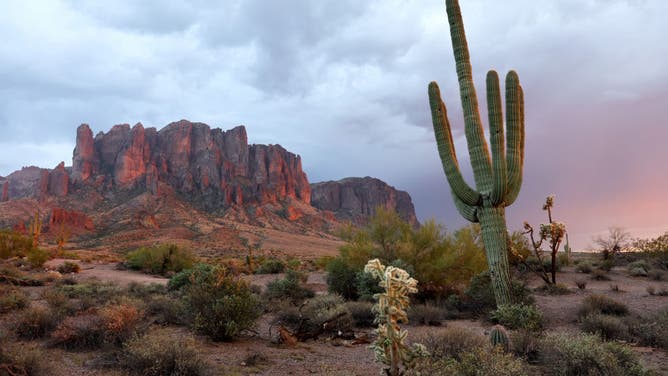 Hernandez said the plants are adapted to the heat but, at some point, need cooler days and more water to relieve stress brought on by the extreme heat wave.
The chance of rainfall is typically common between June 15 and the end of September but got off to a slow start due to weather patterns likely caused by a strengthening El Niño in the Pacific Ocean.
Many cities in the Southwest, including Phoenix, Arizona, and Albuquerque, New Mexico, usually report the year's heaviest rainfall during monsoon season.
Typically, the pattern can lead to a community seeing 40-50% of its annual rainfall, which helps alleviate drought conditions and lead to cacti storing the moisture.
'CORN SWEAT' IN THE MIDWEST CAN CAUSE SOME OF THE MOST OPPRESSIVE HUMIDITY IN THE US
"All the ecosystems depend on those rains, the late summer rains - we call them monsoon," Hernandez told Reuters during a recent interview. "Plants can hold on during the whole dry season for the wet season to arrive, but they just can't hold long, and if the rain doesn't arrive on time, the plant starts suffering from internal damage."
In addition to cacti, other native plants are feeling the impacts from the extreme heat, which shows no signs of letting up.
Phoenix is setting records on a nearly daily basis and recently broke the warmest low temperature ever recorded on July 28 by the overnight reading dropping to just 93 degrees. The city has also recently reported reaching 115 degrees or warmer for 15 days this year – a new all-time record.