Watch: Volcano in Italy erupts, spewing a fountain of lava into the air
Europe's most active volcano roared Sunday night, sending a fountain of lava high into the Italian sky.
CATANIA, Italy – One of the most active volcanoes in the world, and certainly Europe's most active, put on a show late Sunday into Monday. Glowing lava shot from Mt. Etna as it belched steam, ash and gas. Aviation officials in Sicily were even forced to close the Catania Airport.
Planes trapped on the ground were coated in ash. Incoming flights were diverted. Many flights were canceled. The airport is scheduled to reopen Tuesday morning after a sweeper cleans all runways, according to Reuters.
INCREDIBLE VIDEO SHOWS LAVA FROM HAWAII'S MAUNA LOA VOLCANO SHOOTING 150 IN THE AIR

Catania's mayor banned bicycles and motorcycles on streets for 48 hours, allowing crews to scrub the slippery ash, a local told Storyful. Cars had to slow to 18 mph during the cleanup.
The National Institute of Geophysics and Volcanology (INGV) said in a statement that they observed a volcanic cloud that led to ash fallout to cities near Catania, south of the volcano. Soon came a fountain of lava that lit up the night skies.
WATCH A VOLCANO MAKE ITS OWN WEATHER
The lava fountain has cut off, but the INGV said the weak ash emission continues, only impacting the summit area.
Rare smoke rings
Days before, photographers caught Etna belching out smoke rings. The mountain rescue team stationed nearby told local media that the rings are very rare. A single vent pushed out smoke, steam and other gasses at high speed, creating rings.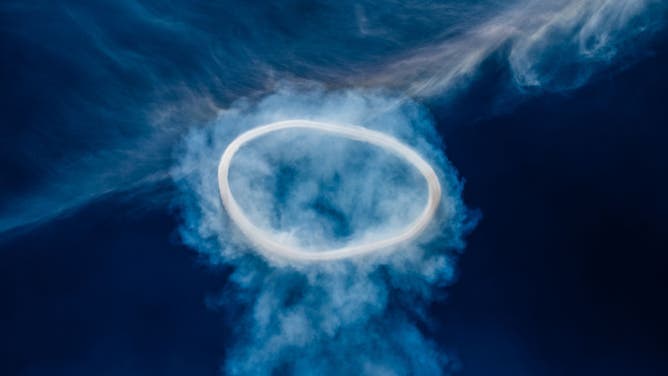 Etna has been an active volcano for the past 2.6 million years, according to Britannica.com.