Ax-2 astronauts expected to splash down Tuesday evening off Florida coast
The Axiom crew has been in space more than a week and rendezvoused with the International Space Station. The Ax-2 crew is led by former NASA astronaut Peggy Whitson and is accompanied by mission specialist Rayyanah Barnawi, pilot John Shoffner, commander Peggy Whitson, Pilot John Shoffner and mission specialist Ali Alqarni.
KENNEDY SPACE CENTER, Fla. – A crew of four astronauts aboard the SpaceX Dragon spacecraft have left the International Space Station and are on schedule to splashdown off the coast of Florida Tuesday evening if weather conditions allow.
Axiom Space reports if the return goes according to plan, Ax-2 could splashdown as early as 11:09 p.m. EDT in the water off the Sunshine State.
Former NASA astronaut Peggy Whitson, pilot John Shoffner and mission specialists Rayyanah Barnawi and Ali Alqarni have spent more than a week in space and conducted more than 20 experiments and demonstrations.
During a rendezvous with the International Space Station, the private crew conducted medical research, studied cloud seeding and participated in several technological demonstrations.
The Ax-2 mission was full of historical firsts, with Whitson becoming the first woman to lead a private spaceflight and Saudi Arabia paying for the seats for Barnawi and Alqarni.
Barnawi, a biomedical researcher, became the first woman astronaut in the Middle Eastern country's history.
SEE THE OBJECTS HUMANS LEFT BEHIND ON THE MOON

The four-person crew will return aboard the SpaceX Dragon Tuesday evening if the weather conditions do not violate strict criteria for a splashdown.
According to NASA, wind speeds cannot be greater than 15 feet per second, and lightning must be at least ten miles away from the protected boundary.
If meteorologists determine the weather is in violation of criteria, SpaceX and NASA can make the joint decision to "wave-off" a landing and attempt again within the next 48 hours.
Seas and winds at many of the potential landing sites along Florida's east and west coasts are declining after a rough Memorial Day weekend.
A storm system triggered squally weather along beaches from the Sunshine State to New Jersey.
Gale-force winds and rough waves even caused damage aboard the Carnival Sunshine cruise ship off the coast of the Carolinas.
NASA DEVELOPS "MOON DUSTER" TO ZAP AWAY LUNAR DUST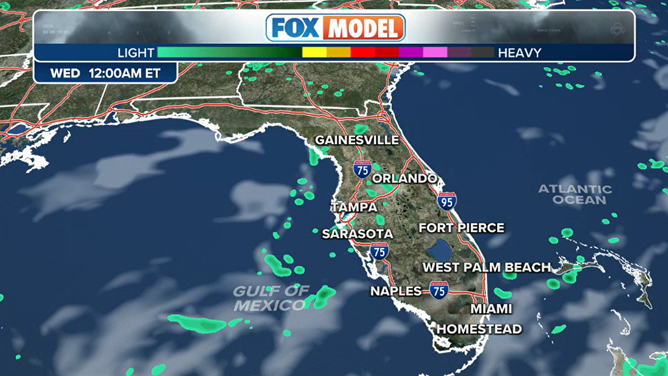 The AX-2 launch was Axiom Space's second all-private astronaut mission to the International Space Station.
The space company and NASA are already planning for a third launch mission later this year, which will be known as Ax-3 and last at least two weeks.
"Axiom Space's selection to lead the next private astronaut mission to the International Space Station enables us to continue expanding access to nations, academia, commercial entities, and emerging industries to research, test, and demonstrate new technologies in microgravity," Michael Suffredini, CEO and president of Axiom Space, said after his company's selection. 
A crew for the Ax-3 mission to the International Space Station has not been publicly announced.