Virgin Orbit's Cosmic Girl takes rocket 'above the clouds'
Virgin Orbit's rocket-carrying jetliner took off from Mojave Air and Space Port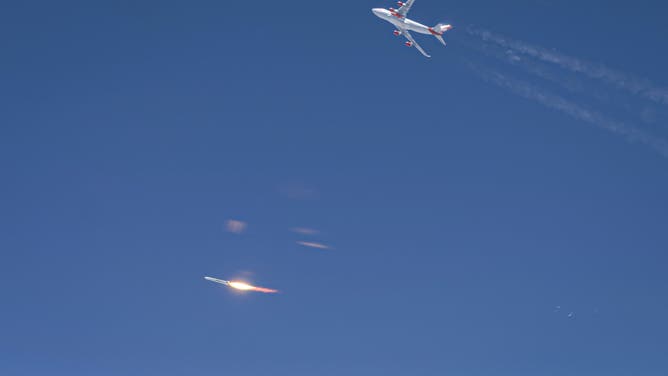 MOJAVE, Ca. – Commercial space company Virgin Orbit launched its first mission of 2022 from the spaceport in California with payloads from multiple U.S. and international customers.
Unlike vertical rocket launches you might see on Florida's east coast, Virgin Orbit's rocket called LauncherOne is carried to altitude by a 747, a former passenger plane named Cosmic Girl. LauncherOne is released from Cosmic Girl at the drop point over the ocean and then it ignites five seconds later, blasting off into orbit.
The plane can take off and land from just about any runway, opening the possibilities for more launch sites worldwide.
Cosmic Girl took off from the runway around 2 p.m. and flew to 31,000 feet over the Pacific Ocean. That's where LauncherOne was released from the belly of the rocket. A camera showed views from LauncherOne's second stage after it reached orbit.
"Looks like we made it 'Above the Clouds' and on our way to Orbit," a Virgin Orbit team member said. "It's a beauty up here!"
The mission name "Above the Clouds" pays tribute to hip hop artist Gang Starr and his 1998 album "Moment of Truth." According to Virgin Orbit, the No. 5 song on the album, "Above the Clouds," is a company favorite. Starr is an artist with Virgin Records, another company founded by Sir Richard Branson.
The launch marked the fourth for LauncherOne. The company was founded by Branson, who had a quick spaceflight last summer with his space tourism company Virgin Galactic. 
This was also a ride-sharing mission. Inside the LauncherOne were a few different payloads. 
The U.S. Department of Defense sent up some Research and Development satellites from multiple government agencies, including a payload sponsored by NASA. Those include experiments in space-based communication and navigation.
Also on board were two nanosatellites from the Polish company SatRevolution. STORK-3 is the third nanosatellite from SatRevolution dedicated to Earth-observations for the agriculture industry.
Spire Global selected Virgin Orbit to deliver its Adler-1 satellite. The mission is a collaboration to address the increasing problem of space debris. The tiny satellite will study space debris in low-Earth orbit, which is becoming increasingly crowded with space trash.
Virgin Orbit has several other launches planned this year.