Video shows mother whale entangled in rope off Georgia's coast
There are less than 350 North Atlantic right whales left in existence.
CUMBERLAND ISLAND, Ga -- A North Atlantic right whale and her newly born calf were recently spotted off the Georgian coast, but video of the pair has experts paying close to ropes that appear wrapped around the mother.
Specialists at the Georgia Department of Natural Resources say they don't believe the entanglement is life-threatening but are working with partner agencies to monitor the pair.
It's unknown when the animal became entangled, but it's not the first time the whale known as Snow Cone was spotted wrapped in the lines.
Georgia DNR says that several attempts were made to remove ropes from the massive whale back in March while she was off the coast of Massachusetts.
Experts believe the ropes are too short for the calf to also become entangled, but it has been spotted recently swimming through them.
The North Atlantic Right Whale Consortium estimates there are less than 350 of these giant mammals left in existence.
SHARKS AND TARPONS AND MANATEES, OH MY!
North Atlantic right whale population decrease
An estimate released by the North Atlantic Right Whale Consortium in October put the population of the endangered species around 336.
The estimate was an eight percent decrease from 2019.
"We are obviously discouraged by this estimate, but quite frankly, not surprised. The right whale research and conservation communities know that while widespread efforts to change the trajectory of the species have been undertaken, they have not been enough," said Heather Pettis, an associate scientist at the New England Aquarium. 
Experts point to entanglements in fishing gear and vessel strikes as being the biggest threat to the species.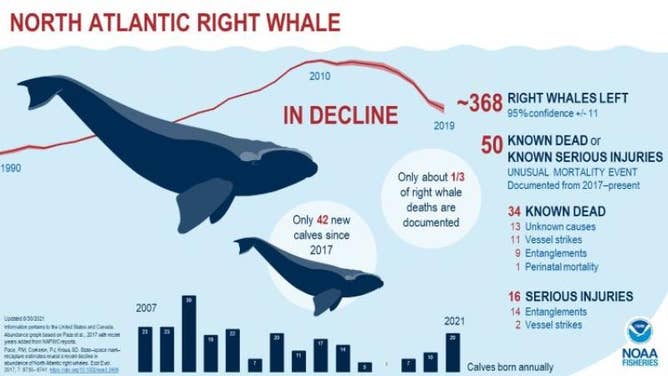 Since 2017, the National Oceanographic and Atmospheric said it knew of at least 50 North Atlantic rights whales that were either killed or seriously injured from some sort of human interaction.
Pettis hoped recent protective measures put in place for Canadian waters and additional rulemaking in the United States could aid in stopping the population's downward trend.
WHY THE FLORIDA KEYS ARE THE PERFECT SPOT FOR FISHING
"We applaud the efforts that have been put into place so far, and hopefully, we can put in even better measures to protect the entire population throughout their entire habitat," Pettis said.
Officials warn East Coast boaters that federal law requires vessels to stay at least 500 yards away from the endangered mammals.