Former Navy warship to be sunk during training exercise
Before being decommissioned in 2012, the USS Boone participated in numerous missions, including drug interdictions and helping protect the waterways off of Africa.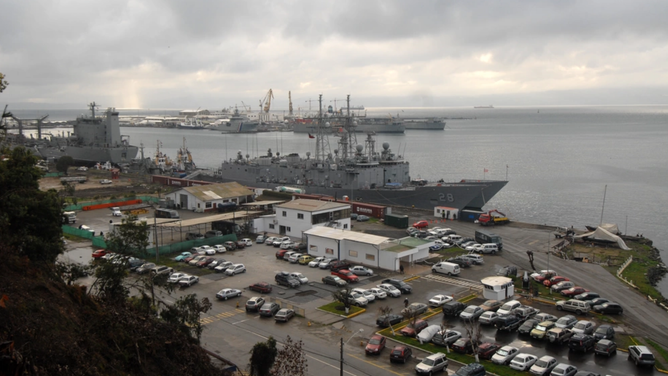 A decorated U.S. warship will soon call the North Atlantic seafloor home after it is purposely sunk by missiles during a joint-training exercise with America's European counterparts.
The event, which is part of the sink at-sea live-fire training exercise (SINKEX) program, is expected to happen in September in the waters off the coast of the United Kingdom.
The U.S. Navy confirmed both American and British forces will conduct coordinated strikes on the former USS BOONE, while off the coast of Europe.
The ex-frigate served the armed forces for around 30 years and participated in numerous missions, including drug interdictions, Middle East security and provided assistance to vessels from pirates off of Africa.
The ship was retired in 2012 at its homeport in Mayport, Florida. 
DIVERS FIND WRECKAGE OF FIRST US NAVY DESTROYER SUNK BY ENEMY FIRE DURING WORLD WAR I
The Navy has a long history of using decommissioned ships for what are essentially large-scale target practices. The U.S. government reports sinking upwards of four vessels each year during training and other exercises.
In July, the USS Denver was sunk during a multi-nation training exercise in the Pacific off of Hawaii.
The Navy said sailors and airmen gained proficiency in tactics while firing against a target at sea during the 2022 Rim of the Pacific exercise.
Before a decommissioned ship takes part in the SINKEX program, crews must follow strict restrictions from the Environmental Protection Agency.
The Navy said in preparation for a sinking, crews empty and flush all fuel tanks to make the ship is petroleum-free and remove all detachable material capable of polluting the ocean.
Typically, the vessels are sunk at least 50 miles from land and are at a depth of at least 6,000 feet.
WAR TROPHY FROM GEORGE WASHINGTON ARMY DISCOVERED AMID BRITISH SHIPWRECK
The exercises are controversial and environmental organizations such as the Sierra Club have previously argued that the ships leak toxic chemicals into the sea.
The Navy said each vessel that participates in the program is thoroughly cleaned and is inspected to ensure that EPA requirements are satisfied.