NASA: TROPICS mission continues despite failures 2 weeks into hurricane season
NASA: Science objectives can still be met with four satellites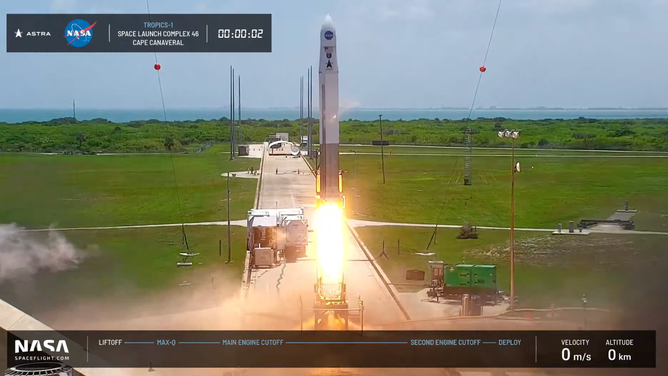 CAPE CANAVERAL, Fla. – A fleet of tiny satellites will have two fewer to study the tropics, but NASA said the mission will go on after the first CubeSats were lost during a launch attempt over the weekend. 
NASA's TROPICS stands for Time-Resolved Observations of Precipitation structure and storm Intensity with a Constellation of Smallsats. Under the original plan, six tiny satellites would orbit over the tropical cyclone belt, taking microwave measurements that will provide details of storm structure, thermodynamics and precipitation throughout the lifecycle of a tropical system. 
Astra's Rocket 3.3 launched from Cape Canaveral on Sunday afternoon, carrying the first two TROPICS CubeSats, but shortly after liftoff, the company said the payloads did not make it to orbit. 
"We had a nominal first stage flight. The upper stage shut down early, and we did not deliver the payloads to orbit," Astra said in a tweet. "We have shared our regrets with NASA and the payload team." 
HERE'S WHY THE ATLANTIC HURRICANE SEASON RUNS FROM JUNE TO NOVEMBER
NASA issued a statement saying that even with the loss of a third of the satellite constellation, the mission would still go on.
"While we are disappointed in the loss of the two TROPICS CubeSats, the mission is part of NASA's Earth Venture program, which provides opportunities for lower-cost, higher-risk missions," NASA said. "Despite a loss of the first two of six satellites, the TROPICS constellation will still meet its science objectives with the four remaining CubeSats distributed in two orbits. With four satellites, TROPICS will still provide improved time-resolved observations of tropical cyclones compared to traditional observing methods."
Astra is working with NASA and the Federal Aviation Administration to investigate the cause of the botched launch.
This marks the second failed mission in as many attempts from Cape Canaveral for Astra.  
Astra's Rocket 3.3 launched from Cape Canaveral Space Force Base in February, carrying four CubeSats under NASA's Venture Class Launch Services Demonstration 2 contract. However, after the rocket reached orbit, cameras on the vehicle showed it spinning out of control.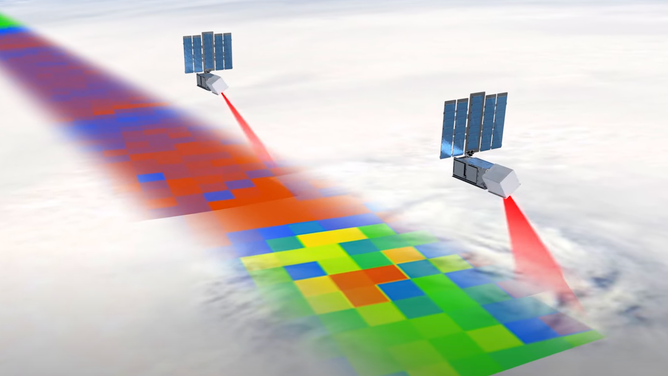 ASTRA REVEALS ELECTRICAL ISSUE CAUSED FIRST FLORIDA LAUNCH TO FAIL
An investigation conducted by Astra and the Federal Aviation Administration found that the rocket nose cone did not fully open before the upper stage ignition because of an electrical issue.
NASA said the agency knows the risks associated with working with a new launch provider. Ultimately, working with emerging launch companies will lower costs and expand space access.
CLICK HERE TO GET THE FOX WEATHER UPDATE PODCAST
"As the agency works with emerging launch providers for cost-effective launch capabilities to space, these types of missions are important to expand our scientific knowledge while fostering the U.S. commercial launch industry," NASA said.
Astra was selected by NASA's Launch Services Program to get all six TROPICS spacecraft to orbit over three launches. It's unclear when the remaining two launches will happen.