SpaceX launches NASA mission studying extreme cosmic objects
The 90-minute launch window opens at 1 a.m. ET on Dec. 9.
KENNEDY SPACE CENTER, Fla. – NASA's new X-ray astronomy spacecraft launched early Thursday from Kennedy Space Center on a very experienced SpaceX rocket.
The Imaging X-ray Polarimetry Explorer, or IXPE, is designed to study some of the most extreme objects in space, including black holes and spinning dead stars. The mission is a collaboration between NASA and the Italian Space Agency. 
A SpaceX Falcon 9 rocket was selected by NASA's Launch Services program to deliver the spacecraft to low-Earth orbit. On Tuesday, the launch vehicle rolled out to Kennedy Space Center's Launch Complex 39A. 
According to SpaceX director of civil satellite missions, Juliana Scheiman, this marked the fifth flight for the rocket booster.
"This booster has launched eight astronauts, three dragon capsules and one geostationary spacecraft," Scheiman said. "Reusability is key to lowering the cost of launch, which in turn enables greater investment and scientific research."
Liftoff happened at 1 a.m. Thursday. After the launch, SpaceX once again landed the booster on a droneship "Just Read the Instructions" in the Atlantic Ocean. 
IXPE separated from the rocket 33 minutes into the flight and soon after unfurled its solar arrays. The spacecraft will orbit Earth's equator about 372 miles above the planet. According to NASA, mission operators are already receiving the first telemetry data from the spacecraft.
IXPE has three identical telescopes to collect X-rays and study polarization through high-energy light. 
NASA has another more powerful X-ray space telescope, the Chandra X-ray Observatory, but IXPE will be unique, focusing on the cosmic X-ray sources of polarization. The space agency said this unique property of light has gone unexplored until now. 
"IXPE represents another extraordinary first," said Thomas Zurbuchen, NASA's associate administrator for the Science Mission Directorate. "Together with our partners in Italy and around the world, we've added a new space observatory to our fleet that will shape our understanding of the universe for years to come."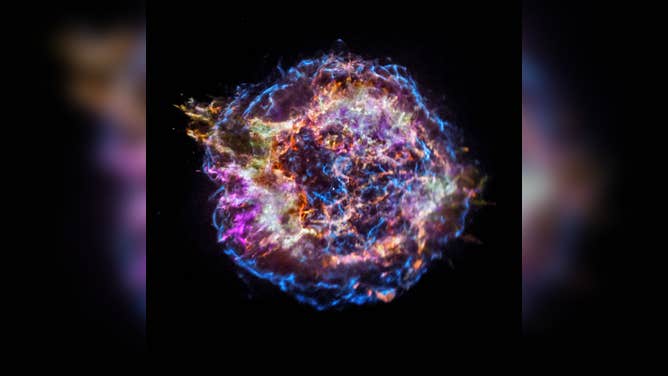 Like light changes when reflected off water on Earth, light becomes polarized depending on what it passes through in space.
NASA scientists hope to measure the amount of polarization to determine the shapes, structures and behavior of cosmic objects.
Chandra X-ray project scientist Dr. Martin Weisskopf is the principal investigator, or lead scientist, on the IXPE mission. He has been studying X-rays for more than 50 years.
"The launch of IXPE marks a bold and unique step forward for X-ray astronomy," Weisskopf said. "IXPE will tell us more about the precise nature of cosmic X-ray sources than we can learn by studying their brightness and color spectrum alone."